SACRAMENTO, Calif. /California Newswire/ — Calif. Assemblymember Kevin McCarty (D-Sacramento), Chair of the Assembly Budget Subcommittee on Education Finance released the following statement in response to the Legislative Analyst Office's (LAO) report, "Creating a Debt Free College Program."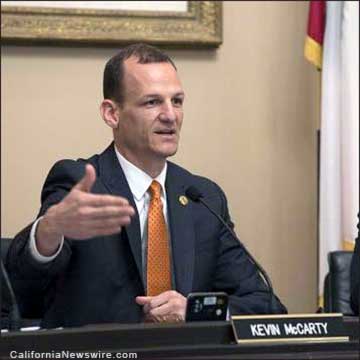 "The LAO's report on debt free college provides a number encouraging options to help our state's students achieve the California dream," said Assemblymember McCarty. This report provides a clear policy road map and potential budget options to fulfill a top legislative priority – making college more affordable and reducing the mountain of debt that many students incur. I look forward to working with my colleagues, the administration, and stakeholders in the months ahead to make college accessible and affordable for all Californians. "
Assemblymember McCarty included the LAO report on creating a debt free college program as part of the 2016-17 Budget Act. A summary of the Legislative Analyst's Report can be viewed here: http://lao.ca.gov/reports/2017/3540/Debt-Free-College-013117.pdf.
A joint hearing of the Assembly Budget Sub-Committee on Education Finance and the Assembly Higher Education Committee to discuss the LAO report will be held on Monday, February 27, 2017 upon adjournment of Assembly Floor Session in Room 447 of the State Capitol in Sacramento.
Kevin McCarty represents California's 7th Assembly District, which include the cities and communities of Antelope, Elverta, North Highlands, Rio Linda, Sacramento and West Sacramento.