SACRAMENTO, Calif. /California Newswire/ — California Assembly Speaker Anthony Rendon (D – Paramount) today named Assemblymember Kevin McCarty (D- Sacramento) Chair of the Assembly Budget Subcommittee on Education Finance. The Chairmanship oversees the largest component of California's multi-billion dollar annual budget, which in 2016 spent $88.3 billion on K-12 education programs and $30 billion supporting California's Community College, CSU and UC systems. McCarty previously served as Chair of the Budget Subcommittee on Education Finance in the 2015-16 legislative session.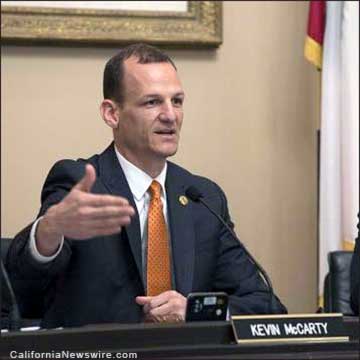 Upon being named Chair, Assemblymember McCarty released the following statement:
"I am honored to be reappointed by Speaker Rendon to Chair the Assembly Budget Subcommittee on Education Finance — overseeing state funding for child care and early education programs, K-12 schools, after school programs, adult education, career technical education programs and higher education," said Assemblymember McCarty.
"As a parent and having spent much of my professional career advocating for quality early education, K-12 and higher education, I know that nothing is more important to the short and long term economic health of California than a strong public education. We've made great progress in the last three years to reinvest in California's P-16 education system. However, much more work is needed to ensure educational equity, to close the educational opportunity and achievement gaps, to improve affordability and accessibility for early education opportunities, to expand career technical education and higher education programs needed to prepare our workforce for the growing global economy."
"As Chair, I am also mindful of the changing federal landscape and will focus necessary attention on protecting all California students from potential threats posed by the incoming presidency," continued McCarty. "California will fight back against any federal effort to privatize public education, weaken worker protection laws or harm undocumented students, LGBTQ students or students of various religious or ethnic minorities. I look forward to working closely with my legislative colleagues and Governor Brown in the coming years to help all of our students achieve the California Dream."
Kevin McCarty represents California's 7th Assembly District, which include the cities and communities of Antelope, Elverta, North Highlands, Rio Linda, Sacramento and West Sacramento.