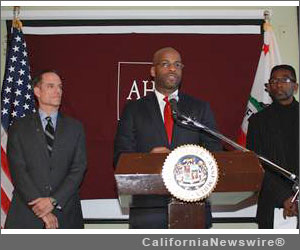 LOS ANGELES, Calif. /California Newswire/ — Today, Calif. Assemblymember Isadore Hall, III (D-Los Angeles) released the following statement following the announcement today that a 32 year old adult film actor has tested positive for HIV. This announcement comes less than two weeks after a 28 year old adult film actress also tested positive for HIV.
"Reports of a second confirmed HIV transmission of an adult film actor in less than two weeks should send a chilling message to the public and the adult film industry. Enough is enough.
"The adult film industry can no longer sit on the sidelines while actors continue to be exposed to injury, harm and potentially death. The adult film industry should immediately reinstate its filming moratorium that it recklessly lifted after only six days. All actors or members of the public that have been potentially exposed to HIV should be tested by licensed medical professionals to determine the extent of this outbreak. Adult film production should only resume with comprehensive workplace safety protocols in place, including requiring condom use in all adult films.
"Adult film actors placed their trust in an industry that has put porn profits above worker safety. It is time for the Free Speech Coalition and the adult film industry to stand up for the workers that made them successful by supporting my AB 640 and working with actors, Cal/OSHA and public health officials to give these employees a safe place to work and earn a living."
Assemblymember Isadore Hall, III, represents California's 64th Assembly District that includes the communities of Carson, Compton, Gardena, Harbor Gateway, Lynwood, North Long Beach, Rancho Dominguez, South Los Angeles, Torrance, Watts/Willowbrook and Wilmington in Los Angeles County.