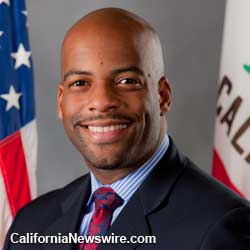 SACRAMENTO, Calif. /California Newswire/ — Assemblymember Isadore Hall, III (D- Los Angeles) today welcomed members of Omega Psi Phi Fraternity, Inc. to the State Capitol to celebrate their 100th anniversary and recognize Omega Psi Phi Fraternity for their proud history, continued achievements and tireless service to all Californians. Members from 25 chapters located throughout California spent the day meeting with state legislators to discuss state budget issues, economic development, education and healthcare.
The centennial celebration was highlighted by Assemblymember Hall's presentation of a resolution to Omega Psi Phi Fraternity, Inc. commemorating 100 years of creating positive role models and generations of leaders throughout the United States.
"I am so proud to share this day with my brothers and recognize the 100th anniversary of Omega Psi Phi Fraternity," said Assemblymember Hall. "The members of Omega Psi Phi represent some of the brightest minds in California. I hope they are able to use this day to engage legislative leaders and address the many challenges facing our great state."
Notable members of Omega Psi Phi include musician Count Basie, actor Bill Cosby, professional athlete Shaquille O'Neal, civil rights leader Jesse Jackson, former Surgeon General David Satcher and California State Assemblymember Isadore Hall, III.
"We are extremely proud to have a member of Omega Psi Phi serving in the California State Assembly," said Sedrick Spencer, 12 District Representative for Omega Psi Phi Fraternity, Inc. "Assemblymember Hall's leadership is a testament to Omega Psi Phi's cardinal principles of manhood, scholarship, perseverance and uplift, along with an enduring commitment to public service."
Founded in 1911, Omega Psi Phi Fraternity is the oldest African American Greek fraternal organization in the United States, with a national membership of over 150,000 individuals. Since its inception, Omega Psi Phi has dedicated itself to academic achievement, civic engagement, public service and volunteerism.