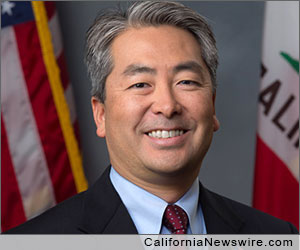 LOS ANGELES, Calif. /California Newswire/ — Calif. Assemblymember Al Muratsuchi (D-Torrance) announced a bill that will aid law enforcement with the effects of prison realignment. He was joined by Torrance Police Chief John J. Neu, Gardena Police Chief Ed Medrano and other local law enforcement representatives.
"Prison realignment is the number one public safety concern facing the State of California," said Assemblymember Muratsuchi. "As a result of realignment, criminals are being released early and without adequate supervision. We need to make sure that our local law enforcement agencies have the necessary tools to deal with realignment and keep our streets safe."
AB 810 will mandate that the Attorney General work with local enforcement agencies to create an inter-county criminal offender database. The database would allow local law enforcement across California to track offenders being released from state prisons. Currently, no centralized offender database exists for local law enforcement use.
"Under realignment, if a released inmate moves from one county to another, local police departments lack critical information on the offender because no centralized database is available," continued Muratsuchi. "AB 810 is an important step toward creating this database."
In 2011, to comply with a federal court order, Governor Jerry Brown signed Assembly Bill 109, the 2011 Public Safety Realignment, to reduce the state prison population by 30,000 inmates. The law mandates, among other provisions, that individuals sentenced to non-serious, non-violent or non-sex offenses will serve their sentences in county jails instead of state prisons.
Also in attendance was Torrance Police Chief John J. Neu. "In regards to realignment, the overall transition has been extremely difficult in several areas. Information sharing, or lack thereof, is a top priority for local law enforcement and this bill will enhance our ability to obtain information and share our information with probation throughout the state," said Chief Neu.
AB 810 is sponsored by the California Police Chiefs Association and the California League of Cities. The bill is slated to be heard in the Assembly Committee on Public Safety in late April.