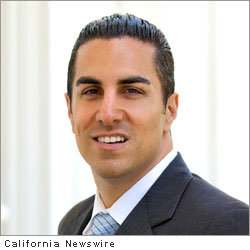 SACRAMENTO, Calif. /California Newswire/ — A key water-conservation bill introduced by Assemblyman Mike Gatto (D-Los Angeles) passed the Senate Natural Resources and Water Committee today by a vote of 6-2. AB 2230 requires new carwashes in California to use at least 60% recycled water. Carwashes are among the biggest users of water around, but they also use water that by its nature (not ingested or used for agriculture) could come ideally from a recycled source. A state task force on water conservation estimates that this simple requirement will conserve enough water to supply 46,000 California families with water each year.
AB 2230 is further consistent with the state's goal, set forth in 2009's SB 7x 7 (Steinberg), to reduce water use 20% by 2020. California has struggled for years to establish standards to reduce water waste and compel homeowners to install higher efficiency toilets and showers, but AB 2230 is the first step to adopt a sensible policy for a major commercial use. "Rather than spraying gallons of valuable drinking water on a mud-crusted jeep, it makes better sense to use water that has already cycled through a carwash but has been stripped of detergents and dirt," said Gatto. "This is therefore a sensible and significant way to conserve water."
Recycled water technology for car washes is readily available and easy to install. 25% of car washes in California have already installed the necessary equipment. Simple on-site water-recycling systems allow conveyor and in-bay car washes to reclaim water used to wash cars, filter it, and reuse it in the early stages of later washes, when the quality of the water is less important.
AB 2230 now moves to the floor of the Senate for a full vote of the chamber.
Mike Gatto is the Assistant Speaker Pro Tempore of the California State Assembly. He represents the cities of Burbank, Glendale, and parts of Los Angeles, including Los Feliz, North Hollywood, Silver Lake, Toluca Lake, Valley Glen, and Van Nuys.