SACRAMENTO, Calif. /California Newswire/ — Calif. Assemblyman Mike Gatto (D-Los Angeles), a long-time advocate for government and budgetary reform and the author of ACA 4, the 2010 constitutional amendment that would create an enhanced version of California's "Rainy Day Fund," offered his support for a new Rainy Day Fund proposal that passed both houses of the Legislature today. Gatto was the second speaker in support of the legislation, rising immediately after Assembly Speaker Emeritus John Perez.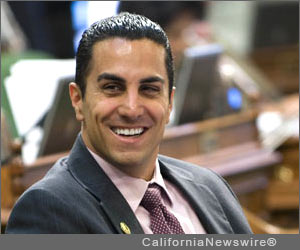 "While broad budgeting and taxation reforms remain elusive, a Rainy Day Fund will stabilize California's finances by taking the most volatile sources of state revenue and securing them until the inevitable downswings that are part of the business cycle," said Gatto.
"Graphing California's annual revenues results in something that looks like seismograph paper. We need a state savings account to be a calming force after the budgetary earthquakes caused by the recession and years of poor planning," said Gatto.
Gatto has been a leading advocate for a more robust Rainy Day Fund for over five years, when he first began meeting with voters, editorial boards, and think tanks, promising to advocate for what he called a "responsible and common-sense reform."
In 2010, Gatto made good on his promise, by authoring ACA 4, a constitutional amendment to enhance California's Rainy Day Fund, which, after being postponed once, would have gone before voters this November. Gatto's leadership on the issue earned him praise from the Los Angeles Daily News, which wrote, "It's not often that the state Legislature or individual legislators are worthy of specific congratulations… But when something positive is accomplished, it's important to take note… If [Gatto's measure] passes, the Legislature would not be able to weasel out of saving money if the political winds are blowing that direction."
Gatto has also long advocated for a shift away from reliance on volatile capital-gains revenues — a concept that has now become the centerpiece of the 2014 proposal. Such talk was a wonky yet recurring theme of Gatto's initial campaigns for the Legislature in 2010.
"Government has a responsibility to live within its means like everyone else. This means socking a little away each year to protect children, seniors, the disabled, and our state's vital services during recessions," said Gatto.
"While shifting proposals may be a little confusing, I think I speak for most when I say I am happy that the people of the state will get to vote for any kind of Rainy Day Fund, period."
Mike Gatto is the Chairman of the Appropriations Committee in the California State Assembly. He represents Burbank, Glendale, La Cañada Flintridge, La Crescenta, Montrose, and the Los Angeles neighborhoods of Atwater Village, East Hollywood, Franklin Hills, Hollywood Hills, Los Feliz, and Silver Lake.