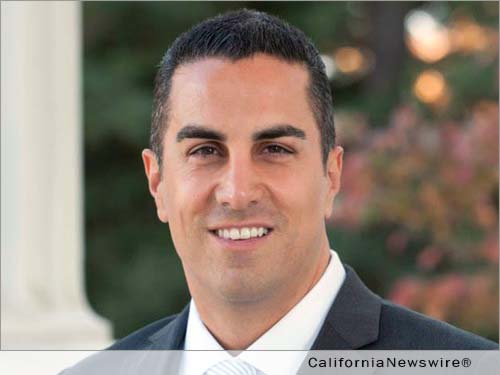 SACRAMENTO, Calif. /California Newswire/ — Calif. Assemblyman Mike Gatto (D-Los Angeles) was joined today by the Howard Jarvis Taxpayers Association and members of the AARP as he signed two Revocable Transfer on Death (RTOD) deed forms for his houses. This comes just days after his AB 139, a measure which established this new estate-planning tool, went into effect. Reformers had tried to pass this historic legislation for ten years, failing until Gatto's AB 139.
Before now, middle-class Californians had two costly options to transfer the title of their home upon death: hire an attorney to draft a trust (which typically costs homeowners between $2000 and $6000) or force surviving loved ones to weather the lengthy, delay-filled probate process (with an average cost of $26,000).
"One of the primary roles of the legislature should be to simplify life for Californians," said Assemblyman Gatto. "AB 139 will do that, by helping homeowners avoid costly probate and attorney's fees and unintended burdens on family members. It's also important for us to operate under the rules we propose, so I wanted to show everyone how easy and secure this process is by signing deeds for my own homes today."
Supporters of the bill expressed their enthusiasm for the availability of the new tool, noting that these new "Easy Estate Planning" deeds will grant all Californians the opportunity to use an inexpensive tool to pass their home to a loved one.
"Establishing a TOD will greatly simplify the transfer of real property, which is crucially important for elderly residents or those on fixed incomes," explained Jon Coupal, President of the Howard Jarvis Taxpayers Association. "A TOD will save both the homeowner and beneficiary time and money and ensures their final wishes are carried out without excessive legal costs."
"AARP favors making estate planning simpler and less burdensome, as long as sufficient safeguards against fraud are in place. AB 139 provides an easy, straightforward, and relatively inexpensive method for California residents to transfer real property," stated Nancy McPherson, State Director for AARP, California. "Allowing Californians to transfer a home, which for many is the most valuable asset they own, allows them to ensure that their loved one maintains possession of that asset after their death. This can provide valuable peace of mind for many older Californians, and that's why, on behalf of 3.2 million California members, AARP strongly supported this legislation."
Most counties were quick to make the forms available on their websites. After notarization of the form, Californians can simply mail the deed to their local County Recorder's office, pay a small fee, and file the form. The average such fee, of $25, pales in comparison to the lawyer's fees involved for previous methods.
"Our office is now prepared to review the Revocable Transfer on Death Deed for our customers seeking a cost-effective method to transfer their personal, residential real property to a beneficiary of their choice upon their death," said Dean C. Logan, Los Angeles County Registrar-Recorder/County Clerk.
Two news outlets filmed Gatto's deed signing. For footage, please contact Assemblyman Gatto's Communications Director Eric Menjivar.
Mike Gatto is the Chairman of the Utilities & Commerce Committee and the longest-serving current member of the State Assembly. He represents California's 43rd Assembly District, which includes Los Angeles, Glendale and Burbank. www.asm.ca.gov/gatto