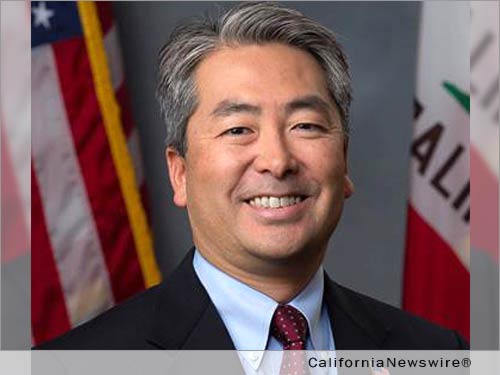 SACRAMENTO, Calif. /California Newswire/ — The Association of Global Automakers has announced Assemblymember Al Muratsuchi as their 2014 "Legislator of the Year." The award was presented last night at a ceremony hosted by the association in Sacramento. Muratsuchi is the second recipient of the Global Automakers' annual award, which recognizes lawmakers who have demonstrated an outstanding commitment to the auto industry and for supporting alternative fuel vehicles.
Honda Motor Company released a statement praising Assemblymember Muratsuchi for his pragmatic leadership and stewardship of California's environment. "Honda applauds Assemblymember Al Muratsuchi for being named Global Automakers' Legislator of the Year. He is a bi-partisan leader looking for workable solutions to the challenges facing our state. We commend Assemblymember Al Muratsuchi for setting the bar high with his support of alternative fuel vehicle technology. His dedication to California, integrity and determination make him very much the Legislator of the Year."
Assemblymember Muratsuchi, who is currently carrying legislation to release additional HOV stickers for clean emission vehicles, expressed his desire to continue his collaborative efforts with the state's automakers.
"With 32 manufacturing plants, 56 R&D facilities and nearly 10,000 dealership franchises, the auto industry is a critical sector of our state's economy. That is why I have made it my mission to form close partnerships with automakers to ensure their businesses flourish in California. Several of the members of the Global Automakers are companies that are good corporate citizens in the South Bay, and I am committed to working alongside them to better California's environmental as well as economic climate," said Muratsuchi "It is an honor to receive this award in my first term in the Legislature and I look forward to a continued partnership with the Global Automakers so that our state remains a center of innovation and leads the nation in clean transportation."
Bob Daly, Senior Vice President of Toyota Motor Sales, U.S.A. echoed these sentiments, "Al has been a steadfast advocate for the auto industry and for improving the business climate in
California. He is a practical, results-oriented leader who brings people and business together and we're grateful for his partnership."
The Association of Global Automakers represents international motor vehicle manufacturers, original equipment suppliers, and other automotive-related trade associations. The association strives to work with industry leaders, legislators, regulators, and other stakeholders in the United States to create public policy that improves motor vehicle safety, encourages technological innovation and protects the planet.
Assemblymember Muratsuchi represents the 66th Assembly District, which includes the cities of Gardena, Hermosa Beach, Lomita, the Los Angeles communities of Harbor City and Harbor Gateway, Manhattan Beach, Palos Verdes Estates, Rancho Palos Verdes, Redondo Beach, Rolling Hills, Rolling Hills Estates, Torrance and the unincorporated communities of El Camino Village and West Carson.