LOS ANGELES, Calif. /California Newswire/ — Palmer Productions and The Most Innocently Inappropriate Couple That Never Was Presents the new world-renowned musical, "The Final, Final Farewell Tour of Dick & Delores DelRubio," starring Alan Palmer and Andrew Orbison.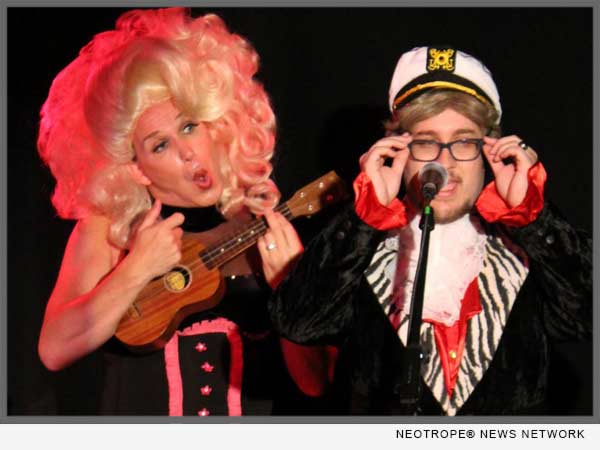 Writer/creator Alan Palmer has outdone himself with this loving and hysterical tribute to the Prima Lounge acts reminiscent of yesteryear. Andrew Orbison's music adds just the right amount of camp with bouncing melodies and haunting ballads.
This hilarious homage to the husband and wife lounge act duo, Dick and Delores DelRubio has planned a United States tour featuring 17 cities in 24 days, beginning June of 2017.
"Dick and Delores share their stories of celebrity, love, life and entertaining. From competing with Liz Taylor, wedding Elvis, bedding Donald Trump and performing in burlesque, Dick and Delores will literally charm the pants right off of you!" says Palmer.
View tour schedule and order tickets online at http://www.delrubio.net/.
ABOUT ALAN PALMER:
Alan Palmer – Performer/Author/Director – is best known to TV audiences as Corcus on "The Mighty Morphin Power Rangers" and Bravo's "People's Couch." He originated the role of Gerard Damiano in "Lovelace" at the Edinburgh Fringe Festival in Edinburgh 2010 and premiered "Fabulous Divas of Hollywood" at the Edinburgh Fringe in 2011.
"Lovelace" garnered him an LA Weekly Award after playing in Los Angeles for six months. His New York credits include "The Music of Andrew Lloyd Webber," with Michael Crawford at Radio City Music Hall and the off-Broadway shows "Bernie's Bar Mitzvah," "Making Waves," "Songs the Girls Sang" and the recent hit off-Broadway musical "Fabulous Divas of Broadway" written by Palmer which continues to tour the world.
Alan is also an award-winning director/choreographer, whose credits include the 50th Anniversary production of "Oklahoma!" for Broadway-Grand Opera, the West Coast premiere of the musical "It's a Wonderful Life," the original production of "Inaccurate Information" written by Jeffery Bowman at Hudson Theatre (L.A. Garland / Best Director), the new version of "Nunsense A-Men" at Open Stage West and tours of "Forever Plaid," "An Evening of Andrew Lloyd Webber" and "Godspell."
He has written several revues, including the musical rockumentary "Rock on Broadway" and his award-winning adaptation of "Songs the Girls Sang" (ADA Award, Best Choreographer).
ABOUT ANDREW ORBISON:
Andrew Orbison – Performer/Music/Musical Director – is a Los Angeles based freelance music director, actor, musician, and arranger. Musical direction credits: "Les Misérable's," "Guys & Dolls," "The Buddy Holly Story," "Smokey Joe's Café," "25th Annual Putnam County Spelling Bee," "In The Heights," "Bare: A Rock Musical" (Assoc. MD), "Avenue Q," "Oliver," "Ruthless!," "The Mystery of Edwin Drood," "The Music Man," "The Robber Bridegroom," "Seussical the Musical" and "Clue The Musical."
Stage credits: "Smoke on the Mountain," "Guys & Dolls," "Spring Awakening," "My Fair Lady," "Jekyll & Hyde," "The Music Man," "The Robber Bridegroom," "Into The Woods" and "Children of Eden."
Orbison also leads choral/show clinics and adjudicates for choirs, festivals, and competitions throughout Southern California and the U.S.
Learn more about the event at:
* Dick & Delores DelRubio website: http://www.delrubio.net/
* Promo Video (YouTube):

* Facebook: https://www.facebook.com/DickandDelores/
* Twitter: https://twitter.com/Divasofbroadway