HOLLYWOOD, Calif. — Georg van Handel (CEO) and Chris Honetschlaeger (President) with BETA Records, LLC, announced today that they will partner with Javien Digital Payment Solutions, Inc. to provide a complete solution for the sale of music, merchandise, and other content from their artists within BETA's upcoming social music community. The micropayment aspect of Javien along with its comprehensive feature set and global payment processing will facilitate the transactions needed for BETA's growing MP3-based catalog of independent music from around the world.
BETA Records will utilize Javien to enhance a highly immersive and engaging music experience that creates close connections between unsigned artists and indie music fans on the new site slated for release later this year. Independent artists can easily upload their music and get exposed to a world-wide audience.
"Javien proved to have the most cost-effective and robust commerce package and payment solution to meet the needs of our upcoming social music community, and the flexibility to adjust accordingly as we grow," said Chris Harper, CXO (Chief Experience Officer) with BETA Records, LLC.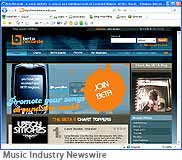 "We are thrilled to add BETA Records to our growing list of music clients powered by Javien's total commerce solution," stated Leslie Poole, Javien CEO. "They can rely on the Javien platform for their content commerce needs so they can concentrate on serving their consumers and artists."
About BETA Records
BETA Records leverages online techniques, combined with valuable label resources, to discover independent artists and expose them in an upcoming robust social music community of listeners. With localized versions of the site in multiple countries, artists can truly get exposed to a world-wide audience, and fans can have fun listening with their friends and making new ones. For more information, visit http://www.betarecords.com.
About Javien Digital Payment Solutions, Inc.
Javien Digital Payment Solutions, headquartered in McLean, Virginia, delivers the next-generation e-commerce management platform to content providers for driving online sales. Offered primarily as an ASP-hosted service, Javien's technology helps digital music sites successfully deploy and manage subscriptions, pay-per-view, downloads, micropayments and alternative billing. Javien's customers include MTV Networks, Trans World Entertainment, Ruckus Network, MusicNet, SNOCAP, Azureus, Hungama Mobile, Forbes.com and Thomson. Javien is backed by K&K Capital Group, which ranks among the most significant financial groups in the Czech Republic. It manages assets of 2 billion USD and employs more than 7,000 people. K&K Capital Group's portfolio includes more than 20 companies around the world. For more information, visit www.javien.com.
All trademarks acknowledged.
[tags]BETA Records LLC, Javien Digital Payment Solutions, online music ecommerce[/tags]