BEVERLY HILLS, Calif. — Beauty TV(R), the world's only beauty TV network today announced that it will bring program offerings to Joost(TM), the world's first broadcast-quality Internet television service. Founded in 2006 by Latino entrepreneur Rob E. Angelino, Beauty TV is dedicated to the beauty enthusiast in the ever-growing $150 billion dollar a year beauty industry.
Since its launch on January 9, 2007, Beauty TV has delivered programs about beauty, fashion and health to a global audience. With the Beauty TV network on Joost, these enthusiasts worldwide will be able to pick up trends and tips anytime through the online entertainment destination.
Content will be focused on beauty tips, hair, skin, nails, cosmetic surgery, spas, health, fitness, insider interviews, beauty news, product reviews and trends. Future shows will include an on-going in-salon soap opera and a half-hour network pilot, "Beauty TV." Current segments feature interviews with John Paul DeJoria, founder of Paul Mitchell Systems (www.paulmitchell.com).
"I think that Beauty TV is an excellent vehicle to help people become more aware of how important the professional beauty industry is for their lives," said John Paul DeJoria, Co-Founder, Chairman and CEO, John Paul Mitchell Systems.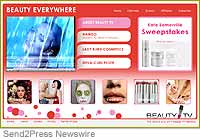 "Beauty TV's business model centers around delivery of the best beauty programming through a number of different mediums, and Joost is an important part of that strategy," said Rob E. Angelino, Founder & CEO. "Our relationship with Joost is very important to expanding the global reach of Beauty TV."
Founded by Janus Friis and Niklas Zennstrom, Joost(TM) combines the best of TV and the best of the Internet by offering viewers a full-screen audiovisual experience enhanced with the choice, control and flexibility of Web 2.0. Joost is the first online, global TV distribution platform, bringing together advertisers, content owners and viewers in an interactive, community-driven environment. See http://www.joost.com/whatsjoost.html.
Yvette Alberdingk Thijm, executive vice president of content strategy and acquisition for Joost, said, "With professionally-produced programming in every category, Joost is a destination for people who are looking for a full entertainment experience – one that combines TV-quality programming and the interactivity of the Internet. Beauty TV is perfect for the Joost platform, because fans can watch the beauty and fashion news while they share their own personal tips through Joost's community features."
About Beauty TV
Welcome to Beauty TV(R), the world's only 24/7 Beauty TV Network. Beauty TV has teamed up with United Global Media Group, Inc. (UGMG) www.ugmedia.com to provide launch support, marketing, content and web production services to launch this new all beauty television network.
Beauty TV's concept is similar to other specific theme networks, such as The Food Network(R) and CNN(R). Beauty TV will use the latest technology to deliver its programming across media channels via mobile TV, web, in-flight entertainment, via IPTV (telecommunication, cable and satellite providers) to viewers across the US, Asia, Latin America and the world.
Over the past several years, the beauty enthusiast has experienced an unprecedented assortment of options to get information. Now through Beauty TV and its affiliates (The Beauty TV Network), the beauty enthusiast can get inside access to the world of beauty in one location. The Beauty TV Network will cover a myriad of beauty topics during its daily broadcasts. From our own inside coverage to content provided by beauty brands, Beauty TV will serve as the focal point for all things beauty.
Visit: http://www.beautynetwork.tv
[tags]The Beauty TV Network, Latino entrepreneur Rob Angelino, Joost IPTV platform, United Global Media Group[/tags]