SYLMAR, Calif. — Alexander Innovation Wizard debuted the Gravity Defyer Shoes, dress shoes with springs in the heel, at the Consumer Electronics Show last week. What is a pair of dress shoes doing at the world's largest electronics show? Alex, inventor of the HomePride Hot Dog Rotisserie, Steinhausen Watches, and hundreds of the world's craziest innovations explained his decision. "When attendants of the CES are spending more time on their feet than they are sleeping, they need relief."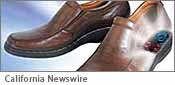 Coupled with two-page advertisements in SkyMall, Popular Mechanics, and the Gadget Universe Catalog, Alex is betting that stylish dress shoes don't need to sacrifice comfort. Of course, only Alex would showcase a pair of dress shoes at the biggest electronics show in the world. "The shoes are a huge success wherever they go. People love these shoes. They really make you want to dance."
A video now available on YouTube shows various enthusiastic shoe wearers expressing their relief.
The video can be seen at:

or
http://www.gadgetuniverse.com/shoes
The founder and CEO of Gadget Universe, a mid-size mail-order catalog business headquartered in Los Angeles County, Alex bills himself as the Innovation Wizard. He speaks with bravado about his company's products, particularly the Gravity Defyer Shoes. "These shoes are going to change the entire industry. No longer do men need to wear sneakers to have comfortable shoes. In fact, you can slam dunk in these shoes as good as any basketball shoe on the market." He has eight new styles arriving in a couple of months, all of them shoes "deserving of a quality men's magazine cover story."
Alex's Gadget Universe mail-order catalog has been around for more than 10 years and is listed with BBBOnline with an A rating. Gadget Universe offers hundreds of innovations through its 48-page monthly catalog and hundreds more online at GadgetUniverse.com. Alexander Innovation Wizard products can be found in retail stores like Sharper Image and mail-order catalogs like Heartland America, Sportsman's Guide, and SkyMall. Alex is also rolling out dozens of funny and entertaining online videos featuring the incredible innovations he is discovering and inventing several months before these gadgets are available to consumers.
[tags]Gravity Defyer Shoes, Alexander Innovation Wizard, Sylmar California news[/tags]