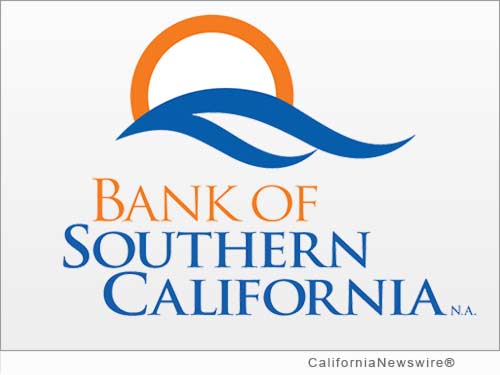 PALM DESERT, Calif. /California Newswire/ — Bank of Southern California, N.A. (OTCMKTS:FBBN / OTC Markets "FBBN") announced today that it purchased substantially all the assets and liabilities of Frontier Bank, FSB dba El Paseo Bank through a purchase and assumption agreement with the FDIC.
El Paseo Bank operates two branches located in Palm Desert on El Paseo Drive and in Rancho Mirage, Country Club Village on Monterey Avenue which will reopen on Monday, November 10, 2014 as part of Bank of Southern California. Existing El Paseo Bank customers will be able to conduct business as usual with the same employees and familiar faces they are presently doing business with.
"We welcome the customers of El Paseo Bank to Bank of Southern California and look forward to providing a comprehensive selection of products and services such as business, commercial and consumer banking and lending services, and a complete suite of online and mobile banking options," said President and CEO Nathan Rogge.
"This acquisition continues our mission of building Bank of Southern California as a community bank focused on providing a high level of service with a relationship-based approach, a business model that El Paseo Bank also practiced. This makes the combining of our two banks a good fit for both customers and employees," added Rogge.
This transaction leverages Bank of Southern California's existing presence in the Coachella Valley. El Paseo Bank will make this the third acquisition in the Coachella Valley for Bank of Southern California. In December 2010, the bank acquired the La Quinta and Palm Springs branches of Palm Desert National Bank as its entry into the Coachella Valley, which the bank considers a key Southern California market, and in January 2014, the bank acquired the Palm Desert branch of AmericanWest Bank.
"The valley has lost many of its community banks over the years, and Bank of Southern California fills that void, now with four banking offices in the Coachella Valley region," concluded Nathan Rogge.
Additionally, Bank of Southern California recently hired Mark Gustafson, a seasoned community banker in the desert as Coachella Valley Market Executive to help lead the bank's growth in the region. Mr. Gustafson most recently served as Market President for First California Bank which was sold and merged into Pacific Western Bank. He also served as President and CEO of Canyon National Bank.
"I am very excited to be part of the Bank of Southern California team of community bankers. Through the bank's strategic acquisitions and organic growth I am confident that Bank of Southern California will become the community bank of choice, serving the needs of businesses and individuals in the desert," added Mr. Gustafson.
About Bank of Southern California, N.A.:
A community bank, established in 2001, Bank of Southern California, N.A., with headquarters in San Diego, Calif., is locally owned and managed and offers a wide range of financial products to individuals, professionals, homeowner associations, and small to mid-sized businesses. The Bank's solution-driven, relationship-based approach to banking provides accessibility to decision makers and enhances value through strong partnerships with their clients. With eight offices in San Diego County and the Coachella Valley in Riverside County, Bank of Southern California remains well-capitalized, with a growing deposit base and loan portfolio.
For more information, visit http://www.banksocal.com/ or call (858) 847-4780.
TICKER: OTCMKTS:FBBN / FBBN / FBBN:OTC US
For questions or comments regarding the above news announcement, contact the company/organization(s) mentioned in the text, and not this website.
Copyright © 2014 CaliforniaNewswire® and Neotrope®. California Newswire is a publication of the Neotrope News Network and a U.S. reg. TM of Neotrope.