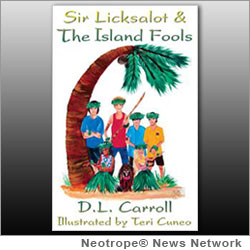 SANTA CLARA, Calif. /California Newswire/ — Just released children's chapter book, "Sir Licksalot & The Island Fools" (ISBN: 978-1462680924), makes a summer debut and wins the Gold! According to Author D.L. Carroll, "This is the second book in the Sir Licksalot series. 'Sir Licksalot & The Island Fools,' submitted to Family Review Center for a review, resulted in inclusion to their awards program. I was pleasantly surprised and honored to receive their prestigious 2012 Gold Award."
Carroll added: "I'm very excited to share this book and the award-winning first book, 'Sir Licksalot & The Maverick Fools,' with all children, especially the reluctant readers."
Family Review Center reviews products and services for companies globally since 2000. They offer free product reviews and a prestigious awards program. Family Review Center is a professional and comprehensive review center that offers B2B services far beyond a simple review.
The Gold Award acknowledges those who have brought to the marketplace products with value, purpose, class and longevity. To be eligible for an Award they must go above and beyond in three key areas; which are: (1) Product Quality (2) Family Friendliness (3) Serving a purpose / Filling a Void.
FRC Review Quotes:
"This book is charming, comical, an easy read and delightful. The twists and turns entangled in the mystery of the story leave the reader entrenched until the ending."
"This is a must read that every child will enjoy and parents will enjoy reading to the younger ones."
"D.L. Carroll is what I consider an excellent children's author. She captures their language, their thought patterns and their interests. She delights her readers with the charm and wit that many cannot place in words that make for such a delightful story."
About the Book:
"Sir Licksalot & The Island Fools" is for Ages 7-12. Author D.L. Carroll intertwines adventure and friendship while adding elements of mystery, magic and education. Using dialogue children can relate to, the author captures even the most reluctant reader's attention. Illustrator Teri Cuneo brings the story to life with illuminating illustrations.
Blaze N. Haught and his friends conspire to return to Mavericks during summer vacation. After careful planning and keeping their secret safe from the adults, plans suddenly go awry starting with an uninvited guest who changes everything. With the help of Sir Licksalot's natural canine curiosity, the kids uncover the presence of three powerful Goddesses. Myths are revealed, friendships are tested, and mana is discovered in this hair-raising magical adventure.
Both books in the award-winning "Sir Licksalot" series are available in paperback and e-book formats.
For more information about "Sir Licksalot & The Island Fools," "Sir Licksalot & The Maverick Fools," or author D.L. Carroll, please visit http://www.dlcarroll.com/ (note: link redirects to AuthorsDen page for author).
Copyright © 2012 CaliforniaNewswire® and Neotrope®. California Newswire is a news publication of the Neotrope News Network and a U.S. reg. trademark of Neotrope – all rights reserved.