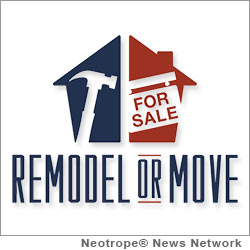 SUNNYVALE, Calif. /California Newswire/ — "Remodeling isn't for everyone, and many times it could be a downright bad decision," says author and expert Dan Fritschen, founder of www.remodelormove.com. "It's well worth your time to pause and consider what your proposed project entails, and whether the it's worth the time, energy, and money you'll end up pouring into it."
The "Should I Remodel?" Online Calculator can help you make that determination. It asks 15 questions and provides a recommendation based on the homeowner's goals.
The calculator can be found at http://www.remodelormove.com/should-you-remodel and takes only a minute to complete – and is free to use.
Here, Fritschen shares seven of the calculators questions that can help decide if you remodeling is the right choice.
Which are we more excited about: Hawaii or hardwood floors? It may sound elementary, but leaning toward 'vacation' over 'remodel' is a good barometer for determining how important an updated home actually is to you.
"Unless a specific renovation really is your heart's desire, you'd probably be better off traveling than pouring money into an already-functional room," comments Fritschen.
Are we the Joneses? If you are the Joneses with whom everyone wants to keep up, it's likely that the addition or remodel you're planning will end up being a lot of work that won't increase the value of your home.
"If you want a bigger or nicer home and you already have the biggest and nicest in the neighborhood, it may make more sense to move to a new home that has all the features you want in a neighborhood full of larger and nicer residences," says Fritschen.
Can we really afford this? There are smart, financially savvy ways to remodel, including using money from savings, using a 203k mortgage, or refinancing and getting cash back on your home. However, if the only ways you can pay for your remodel are to tap into retirement accounts or use your credit cards, then the cost of remodeling increases significantly and is then much harder to justify.
"If you can't pay for a remodel the 'smart' way, then it is better to wait a few years and focus on saving up the money you'll need," advises Fritschen.
How long will we be in this house? If there's a chance you may be moving soon, Fritschen says there is a very good reason not to remodel. Remodeling is a lot of work and if you move soon after finishing you won't have an opportunity to enjoy the results.
Is this a good investment? Do your research before making any commitments so that you'll have a fairly accurate idea of what to expect in terms of the cost to remodel and your home's updated value.
"If the numbers aren't promising and the thought of not making a clear profit when you eventually sell your home horrifies you, you might want to rethink your renovations," he urges.
"Remember, the project should improve not only your home, but also your happiness and quality of life-without breaking the bank or driving your family around the bend," Fritschen concludes. "And again, be sure to take advantage of the free Should I Remodel? Online Calculator at http://www.remodelormove.com/should-you-remodel."
Answers to YOUR remodeling questions!
Remodel or Move(TM) is an independent organization whose mission is to empower consumers to make the best remodel and move decision. To achieve this mission, Remodel or Move provides reference materials, evaluation tools, and no-nonsense advice to all consumers. Remodel or Move promotes no agenda other than the interests of consumers.
The organization's reference materials and educational components include:
* The website: http://www.remodelormove.com/ .
* The Remodel or Move Calculator: an online analysis tool that provides homeowners with a specific recommendation: to remodel or move;
* Private consultations;
* Group seminars;
* The book: "Remodel or Move? Make the Right Decision" (ISBN: 978-1933007694; ABCD Publishing LLC), in bookstores nationwide.
About Dan Fritschen:
Dan Fritschen is the creator of Remodel or Move (remodelormove.com), a homeowner support organization that helps homeowners become better informed so that they can make the right decision on whether to remodel or move.
He started his company after twenty years of remodeling his own homes and helping others make "remodel or move" decisions for themselves. Because he is neither a realtor nor a remodeler, he is qualified to offer pragmatic, unbiased advice.
Fritschen's goal is to make homeowners aware of three important messages:
1. Selling your house COSTS money.
2. There are MANY right ways to remodel, some expensive and some cheap.
3. It is better to move than to over-improve or do an "ugly" remodel.
About the Book:
"Remodel or Move? Make the Right Decision" (ABCD Publishing LLC, 2005, ISBN: 978-1933007694, $15.95) is available at bookstores nationwide and major online booksellers.
Copyright © 2012 CaliforniaNewswire® and Neotrope®. California Newswire is a publication of the Neotrope News Network and a U.S. reg. TM of Neotrope.