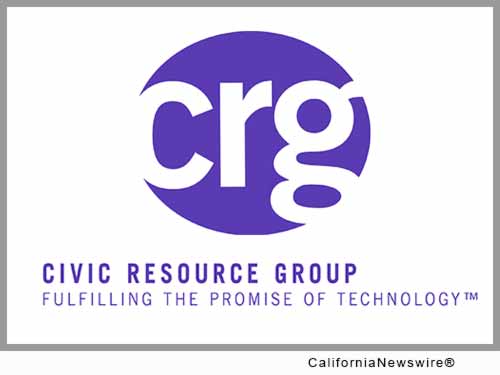 LOS ANGELES, Calif. /California Newswire/ — Civic Resource Group (CRG), a data, mobile and Augmented Reality pioneer in the burgeoning Smart City market, has secured financial support and backing from a group of international investors led by Atlantic Bridge (ABVEN) out of Silicon Valley, London, and Dublin, and Globalive Capital out of Toronto, it was announced by Gregory G. Curtin, Ph.D., Founder and CEO of CRG.
The group also includes Enterprise Ireland, the startup funding and support agency of the Irish government; Gibraltar & Company; Relay Ventures; Front Street Capital; Extreme Venture Partners; and a number of prominent individual investors. In addition to raising approximately $3.5M, CRG completed the acquisition of two startups – i3t out of Dublin, Ireland, and GXMG out of Toronto, Canada – which together provide key intellectual property and talent in the mobile, big data and Augmented Reality arenas.
Kevin Dillon, Founder and General Partner at Atlantic Bridge, noted, "I've been investing in big data, mobile and Augmented Reality personally and with ABVEN for more than a decade now. CRG presented a unique position and strategy for mobile and Augmented Reality in a market – Smart City/smart government – that has been previously untapped and is now clearly one of the big global growth opportunities over the next couple of years."
Anthony Lacavera, Founder and Chairman of Globalive Capital, added, "I like to think big. CRG's leadership and deep industry experience, coupled with its unified CivicConnect(TM) data and CivicAR(TM) mobile Augmented Reality platform present a big opportunity in the massive global Smart City market. I am excited to jump in with CRG and make this happen."
Mr. Curtin, CEO of CRG and who also sits on the World Economic Forum's Global Council on the Future of Government, observed, "Analysts are predicting that 2016 will be the breakout year for the $1.3 Trillion Smart City market across the globe, as well as for Augmented Reality and the Internet of Things. We are already seeing this, and have positioned CRG and our products for this next generation of Smart Cities, including delivering data, mobile and Augmented Reality as a service through our CivicConnect(TM) platform."
He added, "This really represents the 'smart' future for the entire sector, and will have a profound impact on citizen engagement, public service delivery, tourism and economic development, transportation, urban planning, public health and education, environment and sustainability, and so on. With Atlantic Bridge and Globalive on our team now, we're looking forward to really ramping up and leading the market in the coming year."
Kevin Sherry, Director of Global Business Development at Enterprise Ireland said, "Enterprise Ireland is pleased to be an investor in CRG in supporting the company to bring its products for the next generation of Smart Cities to international markets. We also welcome the establishment of the company's European development activities in Ireland."
Mr. Dillon of ABVEN and Mr. Lacavera of Globalive Capital will both join the Board of CRG.
Mr. Dillon has been recognized as one of the leading investors in computer visioning and Augmented Reality (AR). Most recently with ABVEN he was the lead investor in Metaio, the leading Augmented Reality technology company which exited in 2015, and is currently investing its Atlantic Bridge III Fund.
Mr. Lacavera, a successful entrepreneur, most recently served as Chairman of Wind Mobile in Canada, a company he founded and sold in December 2015 to Shaw Communications for $1.2 Billion. Globalive Capital has successfully invested in a diversified portfolio of companies including in the telecom and software sectors, and recently focused on the Augmented Reality market with investments in a number of startup firms.
About Civic Resource Group:
Civic Resource Group (CRG) is a leading innovator in the Smart City market. The Company pioneered CivicConnect(TM), its first-of-a-kind unified data/mobile/augmented reality platform for smart cities, smart government, and smart citizens. The Company most recently introduced CivicAR(TM), a unique mobile Augmented Reality (AR) solution for the public sector. CRG has been "Fulfilling the Promise of Technology(TM)" for the broad public sector, helping to harness digital advances to connect with constituents and deliver better and more efficient services. CRG is headquartered in Los Angeles, Calif. and Dublin, Ireland.
In 2015 CRG was named to the list of Top 20 Government Technology Providers and Top 20 Public Sector Solution Providers along with being spotlighted as "Public Sector Augmented Reality Leader" by Wall Street Forensics. CRG is a new breed of Company blending the best of technology, design and communications in the digital age to support Smart Cities, Smart Government, and Smart Citizens.
For more information, visit: http://www.civicresource.com/ .
VIDEO:

For questions or comments regarding the above news announcement, contact the company/organization(s) mentioned in the text, and not this website.
Copyright © 2016 CaliforniaNewswire® and Neotrope®. California Newswire is a publication of the Neotrope News Network and a U.S. reg. TM of Neotrope.