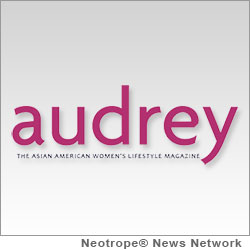 LOS ANGELES, Calif. /California Newswire/ — Audrey Magazine presents "Audrey's Night Out 2012," the 5th annual Fashion Show and Music Showcase at the historic Barker Hangar, located inside the Santa Monica airport. Audrey Magazine continues its long tradition of bringing together a diverse community and industry from Music, Fashion and Film. Barker Hangar has hosted numerous Award and Televised Events. This showcase includes musical performances, hosted bar, and celebrity guests on the red carpet inside the iconic transformed Barker Hangar.
When/Where: Saturday, September 15, 2012; 6 – 11:30 p.m.; Barker Hangar, 3021 Airport Avenue, Santa Monica, CA 90405.
Audrey Magazine is proud to announce that current film and television artists Jamie Chung and Justin Chon will be hosting this special event. Additional announcement, to be released, will include Billboard recording artists and media schedule. The new look Audrey Magazine – fall cover release will be unveiled with a Runway Show directed by Andrew Patterson. For additional updated information: http://audreymagazine.com/audreynightout2012/about/ .
About Jamie Chung:
Jamie is quickly becoming one of Hollywood's most sought-after young actresses. She was recently seen in the indie "Eden" playing the title role, which premiered at SXSW. The film won the Narrative Audience Award and Jamie received the Special Jury Award for her performance. She will next be seen in "Knife Fight" opposite Rob Lowe that premiered this past April at the Tribeca Film Festival, Columbia's "Premium Rush" alongside Joseph Gordon Levitt and Michael Shannon in August, Universal's "Man With an Iron Fist" with Russell Crowe in November, and CBS Film's "7500" being released in 2013. She was seen in 2011 as "Amber" in Zack Snyder's film "Sucker Punch" opposite Vanessa Hudgens, Emily Browning, Jena Malone and Abbie Cornish. She also starred in the record breaking hit "The Hangover PartII." Jamie's previous film credits include Summit's "Sorority Row," Twentieth Century Fox's "Dragonball," Sony's "Grown Ups," and the indie "Burning Palms" to name a few. She is currently shooting an arc on ABC's "Once Upon a Time."
About Justin Chon:
Justin will star in the upcoming feature "21 and Over" by the writers of "The Hangover" coming out in March 2013. No stranger to the big screen, he is known world-wide for the role of Eric Yorkie in "Twilight Series Saga" Other film credits include "Detention of the Dead," "Hang Loose," "Rock Jocks," and "Innocent Blood." Chon began his career as a series regular on the Nickelodeon comedy "Just Jordan" and in the Disney Channel original "Wendy Wu: Homecoming Warrior." In 2009 he won the Male Nova Award by the Multicultural Motion Picture Association, an award that previously was given to Michael Jackson and Will Smith.
Learn more about Audrey Magazine at: http://audreymagazine.com/ .
Media and Marketing Contact:
Mark Dayoub, of DB3Agency.com, for Audrey Magazine, +1.310.403.7477.
DB3 is a "lifestyle marketing" California LLC. DB3 works as producer with music, fashion, and film (distributors, vendors, and lines) in a variety of areas such as product placement, brand awareness, marketing, celebrity outreach and coordination.
Copyright © 2012 CaliforniaNewswire® and Neotrope®. California Newswire is a publication of the Neotrope News Network and a U.S. reg. TM of Neotrope.