LOS ANGELES, Calif. /California Newswire/ — Audiolife, an Artist Services platform designed for indie artists to sell music online and on-demand to fans, has announced that it will officially sponsor The PureVolume House in Austin, Texas. The sponsorship will provide Audiolife with the opportunity to offer its groundbreaking web-platform to PureVolume's extensive list of indie artists surrounding the most highly anticipated interactive music conference of the year.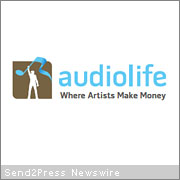 From March 13th – 21st, Audiolife (www.Audiolife.com) will be one of the sponsors of the 4th Annual PureVolume House event (www.PureVolume.com/TheHouse) taking place at 2nd Street and Trinity in Austin, Texas. The event, which spans 9 days/nights and boasts 50+ performing bands, an open bar, and the latest after hours during the music festival, sets the perfect stage for unsigned artists to interact with Audiolife and learn about their innovative technology, tools, and resources specifically designed for musicians.
"We are extremely excited for this chance to team up with one of the most highly respected web-based promotion platforms in the music industry," remarked Brandon Hance, Founder and CEO of Audiolife. "PureVolume's reputation for being on the cutting edge of the industry precedes them, and we believe this sponsorship provides a unique opportunity for us to reach artists from all over the country."
"The PureVolume.com House is a great way for Audiolife to reach thousands of independent artists," added Josh Rowe of PureVolume. "The free tools and apps they offer definitely empower musicians to take control of their careers, and I'm excited to see how artists will respond and utilize their platform."
About Audiolife
Audiolife (www.Audiolife.com), a division of Inhance Media, is an Artist Services Company founded in 2005 by USC graduates Brandon Hance, Aaron Wiener, and Nishit Rathod. Based in Los Angeles, California, the company is currently in public beta and continues their dedication to empowering artists through new technology solutions.
[tags]Inhance Media[/tags]