SANTA CLARA, Calif. — While gas prices throughout San Jose, Silicon Valley and the Bay Area top the $4 a gallon mark – and the government warns daily of even higher prices to come this summer – many Bay Area consumers are finding lifestyle changes are necessary. One beneficial change that has proven to be convenient, environmentally friendly, and affordable is utilizing mobile auto repair services. "As gas prices skyrocket, so do our customer inquires for mobile dent removal, paintless dent repair, plastic bumper repair, and windshield repair," said Mark Carpenter, Owner of Dings Plus Paintless Dent Removal.
"Instead of customers driving to an auto body repair shop and burning up expensive fuel in heavy traffic – at Dings Plus we go to them. Mobile auto repair service companies like ours are actually reducing the number of cars, SUVs and trucks on the road, and are quickly gaining in popularity."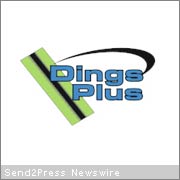 "And as far as a cap on the rise in gas price – there's no end in sight – a quick glance at any chart released from the Energy Information Administration since 2002 will show a steady price climb with only short-lived dips. Mobile paintless dent removal and windshield chip repair services are not only convenient – they save money, gas and time," concluded Carpenter.
In addition, mobile paintless dent repair has several advantages over traditional auto body shop repair service:
* no need for repainting or body filler;
* much less expensive than traditional auto body shop repair;
* same-day service;
* environmentally friendly;
* no risk of paint overspray on other vehicle areas;
* no risk of incorrect color matching;
* vehicle retains original paint.
"A consumer that maintains the original paint on their vehicle actually retains a higher value than a repainted vehicle. Even if it's just a door ding or minor dent, it's always preferable to maintain the car's original paint for as long as possible. Dings Plus provides the vehicle's owner with a win-win situation – our services are a fraction of the cost of an auto body shop, and we enable the consumer to maintain the highest possible value of their vehicle," said Carpenter.
For more information, visit http://www.dingsplus.com.
[tags]Dings Plus Paintless Dent Removal, Mark Carpenter, mobile auto repair service[/tags]