SACRAMENTO, Calif. — Always Best Care Senior Services has expanded into the San Joaquin County, California area. America's premier In-Home Care, Assisted Living Placement Service, and Personal Response Company, is proud to announce seniors in San Joaquin County can now rely on Always Best Care Senior Services for outstanding care.
According to the company, "For over a decade, a caring relationship has been the foundation of our work – a sincere concern for the betterment of life that goes beyond just doing what is required, but doing the most we can for the seniors entrusted to our care. This has been our core belief, and is at the heart of Always Best Care Senior Services. We have worked with thousands of case managers, social workers, discharge planners, doctors, and families to provide a better quality of life for our seniors. "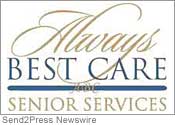 "At Always Best Care Senior Services we can create a tailored In-Home Care package, customized for the senior's needs. Care can be provided on an hourly or daily basis, with services available including; companionship, meal preparation, light housekeeping, grocery shopping, transportation, laundry, recreational activities and more."
For seniors preferring to be in an assisted living environment, we will provide a no cost assessment performed by one care coordinators. Using Always Best Care Senior Services proprietary software we will search through the facilities in the desired area to find the best match for the seniors needs. Matches are based on the senior's level of care needed, financial resources and other preferences they may have.
"We drive the senior and/or their family to tour the facilities, meet with any attending medical staff and assist in gathering the necessary paperwork needed for the move into an assisted living facility. We only refer to facilities that are state licensed or that one of our team members have inspected and would recommend. Always Best Care Senior Services will be there at the senior's side throughout the transition process.
At Always Best Care Senior Services, we believe that no undertaking is more worthwhile than helping with you or your loved ones needs. Our team is unwavering in our commitment to excellence and looks forward to providing you with exceptional service."
To find out more about how ABC can help you, please visit: http://www.abc-seniors.com/95829 .
[tags]In-Home Care, Assisted Living Placement Service, Personal Response Company, Sacramento California news, Always Best Care Senior Services[/tags]