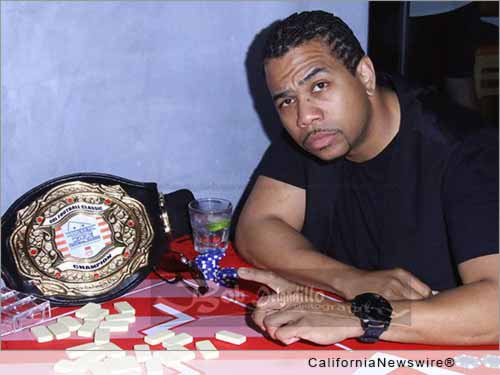 LOS ANGELES, Calif. /California Newswire/ — Starting Monday, Aug. 31, 2015, at Dave & Buster's Hollywood, the Universal Domino League (UDL) will feature its one-of-a-kind professional domino league to add to the excitement of Dave & Buster's magnificent brand. With over 200 games under their roof, the eatery and mega arcade will add one more game when the Universal Domino League brings their "Dominos After Dark" event to the party.
Reigning UDL champion, actor Omar Gooding will stake his claim joining 64 players as they compete for a chance to take home over $3,000 in cash and prizes. The tournament begins at 7 p.m. and ends at 10 p.m. Registration starts at 6 p.m. at the door or in advance online at http://universaldominoleague.com/.
Dave & Buster's is located at 6801 Hollywood Blvd, Hollywood CA. Universal Domino League "Domino's After Dark" will continue every Monday Night at Dave & Buster's Hollywood beginning August 31, 2015.
Founded by Harold Moret, the Universal Domino League consists of over 50,000 domino players worldwide and is the first official gaming association dedicated to the game of dominoes. UDL's "Domino's After Dark" Domino League at Dave & Buster's is the organization's effort to establish a weekly home base location for domino lovers as the UDL continues to build and grow the brand. Past tournaments have included the Universal Domino League Football Classic Domino Tournament in Phoenix, Arizona, Universal Domino League LA Open Domino Tournament in Los Angeles, California, Universal Domino League Boxing Classic in Las Vegas and the Universal Domino League & The NBA Retired Players Association presented Universal Domino League's Play with the Pro's Event at the New York, New York Hotel & Casino.
Moret's vision is bigger than just a game of dominoes. A 20-year industry veteran, who worked closely alongside Dr. Dre at Aftermath Entertainment, Moret, conceptualized the league as similar to the World Boxing Association with domino opponent pre-tournament weigh-ins, championship belts and world-class domino tournaments.
Dominoes is the first game ever invented and provides an arena where the playing field is leveled. Players can participate, regardless of gender or physical prowess and test their skills, gain recognition, and even earn a living playing professional dominos. UDL's host tournaments and head to head high stakes domino matches for major cash and prizes nationwide.
Players use UDL scoring chips to keep score and a tournament format comparable to the World Series of Poker. The players are marketed, promoted, ranked, sanctioned, and governed by UDL. Moret also stipulated the UDL had its own official gaming mat and game clock, which insures fast-paced action, similar to the NBA's shot-clock. In addition, Moret has created a charity facet of the league, UDL Kids, a program that helps at-risk youth and visits children's hospitals teaching arithmetic using dominoes.
"I'm happy to see the UDL plant some roots here on Monday nights in Los Angeles," offers Omar Gooding. "I am personally challenging any and everyone who loves dominoes and also all my celebrity friends to come out and support the Universal Domino League 'Dominos After Dark' at Dave & Buster's. Let's Make History!"
"We are excited to bring 'Dominos After Dark' to Dave & Buster's," adds Moret. "With their emphasis on creating a playground environment of fun mixing food, drinks and games, they are a perfect fit for our brand and our league."
For additional information on the Universal Domino League go to http://universaldominoleague.com/.
"Like" the UDL on Facebook at Universal Domino League.
* VIDEO: https://youtu.be/G46ByoUf19w.
VIDEO:

For questions or comments regarding the above news announcement, contact the company/organization(s) mentioned in the text, and not this website.
Copyright © 2015 CaliforniaNewswire® and Neotrope®. California Newswire is a publication of the Neotrope News Network and a U.S. reg. TM of Neotrope.