SAN FRANCISCO, Calif. — Acme Made(R) has recently introduced its new line of designer bags and laptop cases for the holidays. The highlights of the line include the "Metro Tote," their new Telun vulcanized canvas, and their sustainable textile, EcoStripe.
The Metro Tote is one of the most innovative business/laptop bags available. Developed in Italy, the Metro Tote features a removable laptop "bag-within-a-bag" concept. "With a couple quick snaps the inner bag can be removed and carried separately when you just want to take your laptop to a meeting or coffee shop," explains Acme Made partner, Kirk Thornby.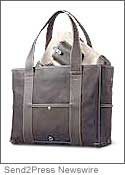 "Or, snap the sleeve out and use the Metro as a spacious weekend tote – the whole idea is to design a lot of versatility into a stylish, everyday bag for both work and weekends."
The Courier is the company's new shoulder bag for men and women. The clean and modest styling offers a lot of functionality "under the hood," a plethora of pockets, and a cool zippered center pocket dividing and organizing the large main compartment.
The Vert Tote is Acme Made's answer to a more classic, all-around tote bag. It's a functional, unisex design with a portrait-style or "vertical" orientation allowing it to carry a lot more within a relatively small footprint. The Vert Tote features short leather handles and a removable shoulder strap.
Textiles are also a big part of the new line. Their "Telun" textile is an Italian-made "vulcanized canvas" that is matte black rubber that has been adhered to a natural canvas backing which gives the Acme Made bags a very unique appearance while the rubber coating creates additional stain and water protection. The new "Eco Stripe" adds sustainability to the company's textile mix. Woven from 100% post industrial and post consumer polyester, the Eco Stripe is a just the first of many sustainable textiles Acme Made plans to incorporate in the near future.
About Acme Made(R)
Acme Made is a Portland,OR and San Francisco, CA based company specializing in innovative designer business bags, totes, and laptop cases. They develop products using imported, European leather and textiles as well as sustainable materials.
More information: http://www.acmemade.com
[tags]Acme Made notebook bags, Eco Stripe designer totes, green fashion products, designer business bags, laptop cases, Telun textile Metro Tote[/tags]