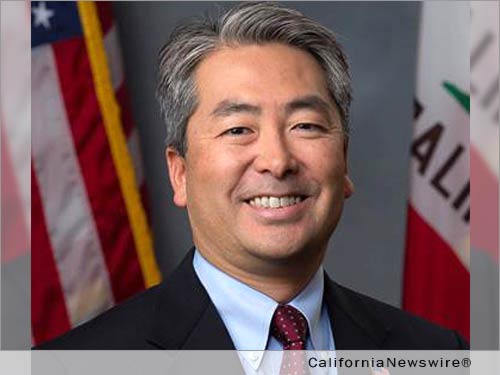 SACRAMENTO, Calif. /California Newswire/ — In order to foster a more stable business climate for California's aerospace sector, the California State Senate today passed Assembly Bill (AB) 777 authored by Assemblymember Al Muratsuchi (D-Torrance).
Also known as the Aerospace Tax Clarification Act, AB 777 would qualify rocket propulsion systems for an existing business inventory tax exemption and update California law to ensure the growing number of jobs created by the space exploration industry remain in the state. The legislation has garnered support from both sides of the aisle and attracted 26 co-authors in the Legislature.
"From the start, AB 777 received broad bi-partisan support because of its potential to strengthen our economic recovery. The State Senate's vote to move this measure forward sends a strong message that California is open for business," said Assemblymember Muratsuchi, Chair of the Select Committee on Aerospace. "The space commercialization industry is not only developing some of the most advanced space vehicles in the world, but is creating thousands of local, high-paying manufacturing jobs."
California has long been at the forefront of aerospace technology, but the recent emergence of commercial space exploration manufacturers in the state has highlighted the need for changes to the tax code in order to more accurately reflect the business operations of this nascent sector. For example, under current law rockets may be classified as business supplies subject to property taxes despite the fact they are part of a transportation service and are lost or destroyed in orbit following a launch. AB 777 codifies the Board of Equalization's recent legal opinion that single use spaceflight equipment is exempt from property tax, freeing the industry from enormous and unexpected tax liabilities that may compel California's most innovative companies to relocate outside the state.
AB 777 passed the Senate by a 32 to 2 vote, with support from Democrats and Republicans. The vote paves the way for the bill to be sent to the Governor's office to be signed into law.
Assemblymember Muratsuchi represents the 66th Assembly District, which includes the cities of Gardena, Hermosa Beach, Lomita, the Los Angeles communities of Harbor City and Harbor Gateway, Manhattan Beach, Palos Verdes Estates, Rancho Palos Verdes, Redondo Beach, Rolling Hills, Rolling Hills Estates, Torrance and the unincorporated communities of El Camino Village and West Carson.