SALT LAKE CITY, Utah — With its key compound touted as "The Dream Cream" by none other than the famed Washington Post, no one should have been surprised when Tummy Flattening Gel(TM) (TFG), from Sovage Dermatologic Laboratories(TM), began flying off the shelves at prestige retailer, Nordstrom, but they were.
"We knew there was a tremendous demand for an effective topical slimming gel," said Gina Gay, spokesperson for Sovage(*). "But the customer base for Tummy Flattening Gel has been high-end spas and exclusive 'beauty' retreats and not traditional cosmetic counters. So we did wonder if Nordstrom's consumers would connect with TFG and its $119 price tag. We were pleasantly surprised when initial sales figures showed that Tummy Flattening Gel was a huge hit."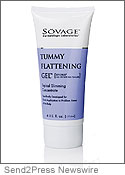 "Although it's called Tummy Flattening Gel, don't let the name fool you… not only does TFG make your tummy and abs look great, but it also lets you reduce the appearance of bulging pockets of unsightly fat wherever they appear."
"This new, highly concentrated formula finally allows for precise, targeted application… making it the first, true 'spot-reducing gel,'" says Nathalie Chevreau, Ph.D., R.D., Director of Women's Health for Basic Research(R), L.L.C., exclusive distributor for Sovage Labs. "In simple terms, Sovage Tummy Flattening Gel makes your midsection, or anywhere else you apply it, look flatter, trimmer and much more well defined."
In other words, put TFG on your thigh, it goes to work directly on your thigh. Thick around the middle? Apply TFG to your waist or tummy and (with diet and exercise, of course) watch as they begin to appear thinner, trimmer and tighter. You can even apply TFG to your double chin. Wherever you've got those unsightly lumps and bumps, there's nothing better than topically applied Tummy Flattening Gel… "The Dream Cream."
With its success at Nordstrom, Tummy Flattening will soon debut at Sephora and other prestige retailers nationwide. For additional information, visit http://www.Sovage.com.
*NOTE: All references to the term Sovage(TM) refer to the full trade name of Sovage(TM) Dermatologic Laboratories(TM).