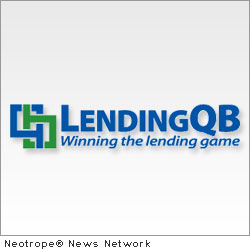 COSTA MESA, Calif. /California Newswire/ — LendingQB, a provider of seamless mortgage lending technology, announced that 3Rivers Federal Credit Union, based in Fort Wayne, Indiana, has selected its cloud-based end-to-end loan origination system (LOS). The platform is being configured to streamline 3Rivers' unique workflow and internal processes in all areas of its mortgage lending business, eliminating unnecessary manual touch points, improving communications, reducing cost per loan and ultimately enhancing member service levels.
"We were previously using one of the better-known origination systems in the industry but found that we needed a more advanced, scalable platform that could help us grow and make originating, underwriting, closing and servicing loans for our members a seamless process that required less staff intervention," explained Jeff Meyer, president and CEO of 3Rivers. "The level of automation we can achieve with LendingQB's solution empowers our team to quickly and smoothly work with numerous applications, instantly underwrite those loans using their proprietary automated underwriting system (AUS) and keep our members constantly updated on their loan status. As we expand, our continued success in lending is all about maintaining the highest standards in member service; we expect LendingQB's technology to be instrumental in accomplishing this."
LendingQB's end-to-end LOS platform resides entirely in the Cloud and is delivered on a software-as-a-service (SaaS) basis to 3Rivers. As a result, the implementation is speedy, system maintenance costs become virtually nonexistent and software updates are instant and not disruptive to operations. The transparency of the platform's ability to seamlessly configure and connect workflows delivers newfound visibility for 3Rivers' team members and ease of communication between critical lending functions/areas. In addition, LendingQB will transform 3Rivers into a completely paperless organization with centralized reporting and key performance indicators (KPIs) for management's oversight. Upfront disclosures, constant real-time compliance audits and closing documents are all included in LendingQB's pay per closed loan pricing model.
"As credit unions continue to capture market share in residential lending, they began to outgrow older LOSs that worked well for originating fewer loans, but with the recent spike in volume, an instant need was created for them to implement a sophisticated enterprise-class system that can grow and flex with their lending business," said Binh Dang, president of LendingQB. "Our SaaS-based LOS will finely tune 3Rivers' operations, facilitate visibility, reduce errors, speed up turn times and adhere to compliance regulations."
About LendingQB:
LendingQB is a Costa Mesa, California-based company that specializes in loan origination technology solutions and services for the mortgage industry. The LendingQB LOS is a 100 percent Web-based, true end-to-end enterprise-class loan origination platform. The solution is designed to meet the needs of all types of mortgage lenders-large or small, wholesale or retail, correspondent or Internet-based-with specialized tools that are targeted, customizable and flexible. LendingQB uses a consultative technology assessment approach before engaging with new clients, and places a strong emphasis on the utilization of data analytics to assist lenders in leveraging business intelligence, resulting in optimized organizational performance and lowered cost per loan. For more information about LendingQB, please call 888-285-3912 or visit www.lendingqb.com.
About 3Rivers:
Since 1935, 3Rivers has led the way in providing value to those we serve – individuals, small businesses and our communities of Northeast Indiana and Northwest Ohio. Being a progressive industry leader with a solid track record is a continuing result of our mission: Helping people understand money matters every day. Over 68,000 members strong, 3Rivers grows meaningful relationships through personalized and simple solutions, 365.24.7 convenience via a world of options, and a solid, caring team focused on your long term success. Visit the company's website at www.3riversfcu.org or call (260) 490-8328.
LendingQB, 3080 Bristol Street, Suite 550, Costa Mesa, CA 92626; 714-957-6335 – www.lendingqb.com.
Copyright © 2012 CaliforniaNewswire® and Neotrope®. California Newswire is a publication of the Neotrope News Network and a U.S. reg. TM of Neotrope.