SUNNYVALE, Calif. /California Newswire/ — The spring 2009 RemodelorMove Remodeling Sentiment Report, a semi-annual survey of 5,000 U.S. homeowners, reveals that four times as many homeowners answered "probably not" when asked if they will remodel this year, as compared to the 2007 survey. In this most recent survey, 68 percent of participating homeowners reported that they probably would remodel this year, down from 84 percent in the fall 2008 report and 92 percent in 2007. The economy clearly is the reason why.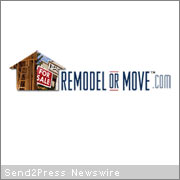 Three times more homeowners than two years ago state that the economy is affecting their remodeling plans greatly, and 82 percent report that the cost of the remodel is a major concern. Past reports are available at www.RemodelorMove.com/survey_reports.cfm .
On the bright side, homeowners who choose to remodel their homes may find this is a good time; with new home construction at low levels, more materials and labor are available for remodeling than several years ago, resulting in shorter project schedules and often lower project costs.
Other findings from the spring 2009 RemodelorMove Remodeling Sentiment Report:
* Homeowners are
o Excited about remodeling – 52 percent
o Dreading remodeling – 12 percent
o Planning to hire a general contractor – 65 percent
* Homeowners' plans include
o Kitchen remodel – 52 percent
o Bathroom addition – 55 percent
o Bathroom remodel – 45 percent
o Addition of one or more bedrooms or den – 35 percent
o Enlarge or add a garage – 19 percent
o Finish a basement – 13 percent
Do It Yourself interest among homeowners remains strong as they try to lower the cost of their remodeling project (www.RemodelorMove.com/login.cfm)
o 67 percent plan to do some work themselves
o 54 percent plan to develop the design themselves
o 35 percent do not plan to hire a general contractor but will manage the project themselves.
In this report, cost is the concern reported most frequently by homeowners. Other common concerns voiced by homeowners include finding a trustworthy contractor (www.RemodelorMove.com/servicemagic/servicemagic.cfm) and deciding what work should be done to their home.
Interviews with report authors, regional reports, and past reports are available by contacting reports@RemodelorMove.com or phoning 888-825-4169.
[tags]Remodeling Sentiment Report, remodel or move, ABCD Publishing LLC, homeowner survey[/tags]