NEW YORK, N.Y., Sept. 20, 2022 (SEND2PRESS NEWSWIRE) -- Concordia today announced that former President of Costa Rica Laura Chinchilla is appointed Co-Chair of the Concordia Leadership Council, alongside current Chair George Logothetis. The announcement was formally made at today's 2022 Concordia Annual Summit.
NEW YORK, N.Y., Sept. 20, 2022 (SEND2PRESS NEWSWIRE) -- Klingenstein Fields Advisors (KF Advisors), an independent investment advisor with approximately $5.0 billion in assets under management (AUM) as of 12/31/21, has been named to Barron's Top 100 Registered Investment Advisor (RIA) Firms for 2022. This is Barron's seventh annual ranking of registered independent advisory firms and recognizes top advisory firms nationwide.
MENLO PARK, Calif. /California Newswire/ -- As of today, Yiftee, Inc. is offering another way to "Keep Local Dollars Local" with its new "Order Desk" capability. City offices, Chambers of Commerce, Main Streets, and Downtown Associations can now sell their custom-branded Community eGift Cards to walk-in buyers and at public events, in addition to online sales.
NEW YORK, N.Y., Sept. 20, 2022 (SEND2PRESS NEWSWIRE) -- As the company is dedicated to providing creative and effective multimedia tools, HitPaw has updated HitPaw 2.0 with a brand new website design, aiming to improve the user experience. The motto "Record. Create. Enjoy. Share" represents the attitude and the vision of HitPaw, which is to help youth and content creators who are passionate about life free up the infinity of creativity without any limitation.
NEW YORK, N.Y., Sept. 20, 2022 (SEND2PRESS NEWSWIRE) -- A huge back-to-school sale is here! Tenorshare 4DDiG presents the biggest back-to-school sale starting from Sep 7 to Oct 10, 2022, all users can get up to 75 percent off alongside some free gifts including a $100 Amazon Gift Card.
NEW YORK, N.Y., Sept. 20, 2022 (SEND2PRESS NEWSWIRE) -- PassFab has proudly announced that it has launched an exciting new 'back to school' special promotion offer for its PassFab Android Unlocker. In this exciting new offer, users will be able to get 58% off and the offer is valid from September 7 to October 7, 2022.
NEW YORK, N.Y., Sept, 20, 2022 (SEND2PRESS NEWSWIRE) -- In September, Apple will release the eagerly anticipated iPhone 14 series. The most recent iPhone uses iOS 16, and as iOS 16 is a new operating system, few applications are designed to work with it. However, UltFone, a newly established international software provider, declared that all of its products are compatible with the iPhone 14 series.
BOSTON, Mass., Sept. 20, 2022 (SEND2PRESS NEWSWIRE) -- Thanks to a two-year grant recently awarded by BioMADE, the BioBuilder Educational Foundation will expand a program that has supported thousands of high school inventors over the last decade. BioBuilder is leading the project, "Launching High School Bioengineers on their Paths to College and Careers," with funding that will bring the authentic tools and approaches for engineering biology to BioBuilderClub students nationwide in collaboration with East Tennessee State University, Ars Biotechnica, and Daicel Arbor Biosciences.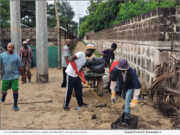 WASHINGTON, D.C., Sept. 20, 2022 (SEND2PRESS NEWSWIRE) -- U.S. Ambassador Linda Thomas-Greenfield urged activists to come together to achieve climate justice during her opening message to nearly 500 people logged on from around the world for today's kick-off of the PRE-COP27 Virtual Climate Change Collection hosted by the HBCU Green Fund's Sustainable Africa Future Network.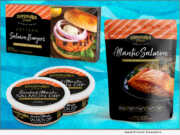 HIXTON, Wis., Sept. 20, 2022 (SEND2PRESS NEWSWIRE) -- Superior Fresh, America's first land-based Atlantic salmon farm, is pleased to announce three new, coast-to-coast ways to enjoy their heart-smart Atlantic salmon. Retail-ready frozen premium fillets, burgers, and dips are now available nationwide at select retailers and online.