NEW YORK, N.Y., Sept. 19, 2022 (SEND2PRESS NEWSWIRE) -- Ivan Duque Marquez, Former President of Colombia, today announced the Concordia Amazon Initiative on the Metropolitan Stage of the 2022 Concordia Annual Summit. The leading global affairs platform commenced its 12th annual convening on Monday, September 19 and it is being held through Wednesday, September 21, alongside the 77th session of the United Nations General Assembly.
PHOENIX, Ariz., Sept. 19, 2022 (SEND2PRESS NEWSWIRE) -- Black Ops Machine Inc is announcing its grand opening date. We are a brand new UTV part and accessory manufacturer. Black Ops Machine is a new business with affordable products and they support our United States troops and ALL first responders.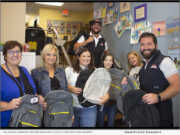 NEW BEDFORD, Mass., Sept. 19, 2022 (SEND2PRESS NEWSWIRE) -- Couto Construction, a group of exterior home experts, is truly a company that cares. Its company is rooted in family values and it's an important part of their mission to give back. That's why they decided to help area schools and kids to get ready for the academic year ahead. They pledged to donate five backpacks for every new job sold. The campaign ended on August 31 and they donated more than 200.
LAKE ZURICH, Ill., Sept. 19, 2022 (SEND2PRESS NEWSWIRE) -- Edupoint® Educational Systems announced today that Lake Zurich Community Unit School District 95 (LZCUSD) has selected the company's industry-leading Synergy® Student Information System (SIS) for its student data management needs. The district's solution will include Synergy SIS and Synergy Online Registration, hosted in the Synergy Cloud environment. LZCUSD serves over 5,500 students across eight schools northwest of Chicago.
ROCKVILLE, Md., Sept. 19, 2022 (SEND2PRESS NEWSWIRE) -- The National Postdoctoral Association (NPA) today kicked off the 13th annual National Postdoc Appreciation Week (NPAW), taking place today through Friday. NPAW is the nation's largest celebration of postdoctoral scholars who serve at more than 300 institutions, acknowledging the significant contributions "postdocs" make to research, innovation and scientific discovery.
PUEBLO, Colo., Sept. 19, 2022 (SEND2PRESS NEWSWIRE) -- St. Louis-based financial services firm Edward Jones celebrates its Centennial, marking a century of transformative growth and the positive impact it has made for clients, colleagues, communities, and society. This year and beyond, Edward Jones' more than 50,000 colleagues across North America will join in activities that celebrate this monumental milestone and set the stage for the continued growth of the firm's impact in the next 100 years.