HOLLYWOOD, Calif. /California Newswire/ -- The Black Hollywood Education and Resource Center (BHERC) has teamed with Restoration Stage (Washington, D.C.) to bring the popular musical "Veils" to the Los Angeles area for a short run Thursday, September 15, and Friday, September 16 at 8 p.m.; Saturday, September 17 at 2 and 8 p.m. and Sunday, September 18 at 8 p.m. at the Nate Holden Performing Art Center in Los Angeles.
SAN JOSE, Calif. /California Newswire/ -- Jack Grandcolas, Pebble Beach, California, lost his wife on flight 93 on 9/11/2001 and shares his story and the actual final call on an answering machine message from her. In this animated video from YouTuber Kipp Berdiansky and his channel, "Heroes of War," the viewer can listen to this message and see how that day unfolded and how it has affected him to this day.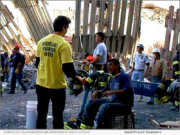 NEW YORK, N.Y. and LOS ANGELES, Calif., Sept. 12, 2022 (SEND2PRESS NEWSWIRE) -- Out of the smoke and dust that engulfed lower Manhattan 21 years ago rose a humanitarian movement known for its ardent commitment to help: the Scientology Volunteer Ministers-a religious social service of the Church of Scientology.
​DENVER, Colo., Sept. 12, 2022 (SEND2PRESS NEWSWIRE) -- Big return of CREATE Restaurant Technology event in downtown Denver. The Kiosk Association is a returning sponsor (three years now) - Sponsors this year are Johnsonville, Coca-Cola, and Tyson. Participants include iHop, Nations Restaurant News (NRN), Noodles, Denny's, Wendy's and many more top tier speakers.
DENVER, Colo., Sept. 12, 2022 (SEND2PRESS NEWSWIRE) -- ACES Quality Management(r) (ACES), the leading provider of enterprise quality management and control software for the financial services industry, announced the release of its quarterly ACES Mortgage QC Industry Trends Report covering the first quarter (Q1) of 2022. The latest report analyzes post-closing quality control data derived from ACES Quality Management & Control(r) software.