MELBOURNE, Australia, June 13, 2022 (SEND2PRESS NEWSWIRE) -- Stack Sports, the largest and fastest-growing provider of sports technology, continues its momentum internationally, fueled by key partnerships at every level. With international headquarters in Australia, the United Kingdom, and the United States, Stack Sports is leading the sports industry focusing on four key pillars - Grassroots Engagement, Participation Growth, Recruiting Pathways, and Elite Player Development.
NEW YORK, N.Y., June 13, 2022 (SEND2PRESS NEWSWIRE) -- The Concordia Leadership Council announces the three recipients of the 2022 Leadership Award: Iván Duque Márquez, President of the Republic of Colombia, for the public sector; Ginni Rometty, Co-Chair of the Executive Board at OneTen and former Chairman, President & CEO of IBM, for the private sector; and, Sister Norma Pimentel, Executive Director of the Catholic Charities of the Rio Grande Valley, for the nonprofit sector.
NEW BEDFORD, Mass., June 13, 2022 (SEND2PRESS NEWSWIRE) -- In 2018, "Couto Cares" became Couto Construction's company motto and it continues to be at the heart of what this roofing contractor stands for most. That's why they're excited to announce that they were the recent recipient of the Pinnacle Award, an Owens Corning Community Award, in the community category.
ATLANTA, Ga., June 13, 2022 (SEND2PRESS NEWSWIRE) -- At a time when Jazz music could truly use a boost in listenership, singer Tony Hightower is on a mission to be the bridge to help a younger generation of appreciators crossover. With his sophomore album LEGACY entering the marketplace in June 2022, all-around singer/entertainer Hightower - a protégé of the late Freddy Cole - is leveraging his R&B and Hip-Hop roots to entice more young people to dig jazz.
NEPTUNE CITY, N.J., June 13, 2022 (SEND2PRESS NEWSWIRE) -- North American Van Lines, Inc., one of the world's largest van lines and a provider of the highest quality personalized moving experience for over 88 years, and Move For Hunger, a national hunger relief non-profit organization, have announced their ninth partnership renewal.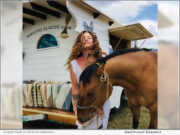 LOS OJOS, N.M., June 13, 2022 (SEND2PRESS NEWSWIRE) -- Herbal health enthusiast Scarlet Ravin has enjoyed a supportive counterculture following since the 2007 launch of her White Fox Medicinals, a CBD infused topical line of health and beauty mixtures.
PLANO, Texas, June 13, 2022 (SEND2PRESS NEWSWIRE) -- Georgia State Soccer Association - the official National State Association of USSF, as well as the recognized national soccer association within the Federation International de Football Association (FIFA), the worldwide governing body for soccer - announced today a new partner in CaptainU, powered by Stack Sports, to help more athletes find college opportunities.