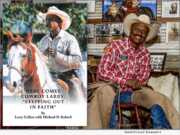 ROSENBERG, Texas, May 12, 2022 (SEND2PRESS NEWSWIRE) -- "HERE COMES COWBOY LARRY, STEPPING OUT IN FAITH" (ISBN 978-1667838816) is the biographical story of Larry Callies in his own words, he dreamt from the age of ten of becoming a Cowboy; and his spiritual journey as man of color to the founding of the First Museum honoring the long history of the Black Cowboy Heritage.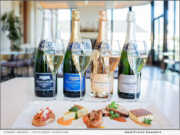 NAPA, Calif. /California Newswire/ -- Founded in 1987, in the Carneros appellation of Northern California by the Champagne Taittinger family, Domaine Carneros is a grower producer of ultra-premium sparkling wines and limited production pinot noirs. As of May 1st, the winery is pleased to announce a new menu for its popular Bubbles & Bites tasting experience, first launched in 2018.
MCLEAN, Va., May 12, 2022 (SEND2PRESS NEWSWIRE) -- The Army National Guard awarded a $2M follow-on contract to By Light Professional IT Services LLC (By Light) and its teaming partner Warhorse Training Solutions. Under this contract, By Light will provide 44 additional Recruiting Experiences to attract and educate young men and women about critical Military Occupational Specialties (MOS).
PHOENIX, Ariz., May 12, 2022 (SEND2PRESS NEWSWIRE) -- Expanding access to more than $500 million in annual contracting, Thinkzilla Consulting and the Arizona District Office of the U.S. Small Business Administration are collaborating to host a special event on "How to Do Business with the Federal Government." The free in-person event takes place May 24 from 10 to 12:30 p.m. and registration is now available.
MIAMI, Fla., May 12, 2022 (SEND2PRESS NEWSWIRE) -- Bringing programming and education on the importance of diverse representation in commercial real estate and other industries to Florida, "The Gathering of Queens" will commence in Miami on June 11, Thinkzilla Consulting Group announced today. Following on the heels of successful events in Atlanta, Phoenix, and Houston, the women's economic empowerment event is sponsored by M&T Bank.