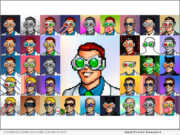 ALEXANDRIA, Va., May 11, 2022 (SEND2PRESS NEWSWIRE) -- Non-fungible tokens, or NFTs for short, have already enabled many innovative use cases, from digital collectibles to private membership experiences. Today, CleverFiles, a software company based in Alexandria, VA, announced its collection of 100 full-featured transferable lifetime licenses for its world-famous data recovery software, Disk Drill, sold as NFTs on OpenSea.
PHILADELPHIA, Pa., May 11, 2022 (SEND2PRESS NEWSWIRE) -- Agile, a groundbreaking fintech bringing mortgage lenders and broker dealers onto a single electronic platform, today announced the launch of Agile Chat, a new chat feature designed to increase transparency and efficiency between lenders and broker dealers.
JACKSONVILLE BEACH, Fla., May 11, 2022 (SEND2PRESS NEWSWIRE) -- Industrial SalesLeads, IMI announced today the April 2022 results for the new planned capital project spending report for the Industrial Manufacturing industry. IMI tracks North American planned industrial capital project activity; including facility expansions, new plant construction and significant equipment modernization projects. Research confirms 148 new projects in the Industrial Manufacturing sector.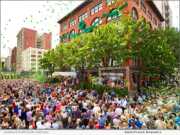 PORTLAND, Ore., May 11, 2022 (SEND2PRESS NEWSWIRE) -- May 11 marks the ninth anniversary of the Ideal Church of Scientology of Portland. The Church invites everyone to visit - whether in person or online. The Portland Church of Scientology holds a very special place in the hearts and minds of Scientologists.
BRADENTON, Fla., May 11, 2022 (SEND2PRESS NEWSWIRE) -- Oasis Middle School announces today the launch of "Community Voices," an exciting initiative designed to encourage area employers to come together, collaborate, and support each other. The "Community Voices" kick-off get-together will occur on Wednesday, May 25, 2022, beginning at 5:30 p.m. with arrival, networking, and light refreshments.
ADDISON, Texas, May 11, 2022 (SEND2PRESS NEWSWIRE) -- Mid America Mortgage, Inc. (Mid America) announced today that Gary D. McKiddy has been promoted from Chief Risk Officer to Chief Financial Officer. In this new role, McKiddy will manage financial operations and strategy as Mid America Mortgage continues to refine its operations and drive business growth through recent product line additions, such as its correspondent down payment assistance (DPA) program.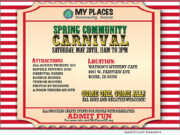 BOISE, Idaho, May 11, 2022 (SEND2PRESS NEWSWIRE) -- MyPlaces Community Events, a community-based charity creating events accessible to people with disabilities, announced today that it is hosting its 4th Annual Spring Carnival, Saturday May 28 from 11 a.m. - 3 p.m.! These events have been a constant draw and boon for connecting special needs individuals with the larger community, in the universal language of HAVING FUN!
CORAL SPRINGS, Fla., May 11, 2022 (SEND2PRESS NEWSWIRE) -- Coral Springs Medical & Dental, part of the HG Doctors Family, announced today that the City of Coral Springs honored it with a 2022 Business Excellence Award in the "Heart of the Community" category.