MARINA DEL REY, Calif. /California Newswire/ -- Loren Data Corp., a leader in B2B eCommerce communications technology, announced today that they have introduced a new user interface for their clients. The new portal leverages the core API technologies of ECGrid to provide a holistic view into all production EDI and B2B transactions.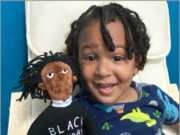 MIAMI, Fla., Sept. 13, 2021 (SEND2PRESS NEWSWIRE) -- The day after the American Thanksgiving Day holiday has long been considered the biggest shopping day of the year in the United States. Dubbed "Black Friday" for many reasons. Empire License, Inc. is now very excited to introduce to the world their very own version of Black Friday: "Black Friday" the character, in the formation of animation and plush dolls.
RED BANK, N.J., Sept. 13, 2021 (SEND2PRESS NEWSWIRE) -- Mayflower Transit, the nation's most recognized and trusted moving company, and Move For Hunger, a national hunger relief non-profit organization, announced today a brand new partnership that will provide much-needed transportation assistance to food banks in the United States while also contributing more than 125,000 meals.
AUSTIN, Texas, Sept. 13, 2021 (SEND2PRESS NEWSWIRE) -- The 2021 MUSE Awards programs are now officially closed now that winners have been announced. Taking in 4,876 entries from all over the world in both the MUSE Creative Awards and the MUSE Design Awards, the competition has demonstrated itself to be one of the leading programs in honoring excellent individuals in the creative and design fields.
CHICAGO, Ill., Sept. 13, 2021 (SEND2PRESS NEWSWIRE) -- Logistical Labs, creator of innovative technology that takes the complexity out of shipping, announced today the release of their updated user interface for their LoadDex product. The new version will showcase a simpler design and a more user-friendly approach, with the same features as the previous version but now with more functionality including quick access to search history, batch rating, and a much smoother quoting workflow.
PITTSBURGH, Pa., Sept. 13, 2021 (SEND2PRESS NEWSWIRE) -- Steiner Realty, Inc. announces their designation as one of Pittsburgh's 2021 Top Workplaces. Steiner Realty has been awarded a Top Workplaces 2021 honor by The Pittsburgh Post-Gazette for the third year in a row.