CORONA, Calif. /California Newswire/ -- Mortgage Coach, the only platform enabling mortgage lenders to create digital and accurate home loan options for consumers, today announced its addition of detailed debt consolidation strategies in the Total Cost Analysis (TCA) presentation, allowing loan originators to educate consumers on lower interest debt repayment options as peaking home equity values offer household cashflow relief.
TORRANCE, Calif. /California Newswire/ -- DocMagic, Inc., the premier provider of fully-compliant loan document preparation, automated regulatory compliance, and comprehensive eMortgage services, announced that AmeriSave Mortgage Corporation, one of the fastest-growing privately-held mortgage lenders in the nation and a pioneer in digital origination, is utilizing its document preparation solution and Total eClose™ platform to drive digital mortgage efficiency.
SAN FRANCISCO, Calif. /California Newswire/ -- United Private Cloud, a secure enterprise-grade multicloud hosting provider known for designing, building, and managing enterprise-class private cloud infrastructure, has been positioned as "Innovators" in MarketsandMarkets' Infrastructure as a Service Micro Quadrant Report.
DENVER, Colo., June 9, 2021 (SEND2PRESS NEWSWIRE) -- Leading digital mortgage platform Maxwell just announced the addition of Sadie Gurley as Vice President to its leadership team. Sadie holds over 25 years of experience in the mortgage industry, most specifically in due diligence and quality control services. Her role at Maxwell will help the company find new opportunities and expand its impact on community lenders across the country.
JACKSONVILLE, Fla., June 9, 2021 (SEND2PRESS NEWSWIRE) -- SalesLeads announced today the May 2021 results for the new planned capital project spending report for the Industrial Manufacturing industry. The Firm tracks North American planned industrial capital project activity; including facility expansions, new plant construction and significant equipment modernization projects. Research confirms 171 new projects in the Industrial Manufacturing sector.
DELRAY BEACH, Fla., June 9, 2021 (SEND2PRESS NEWSWIRE) -- New research found that patients who have obstructive sleep apnea (OSA) may be at a higher risk of COVID-19 infection. To help patients who suffer from OSA, Dr. Tiffany Dudley and the Spodak Dental Group team are offering complimentary consultations to offer education and treatment options.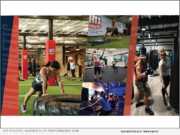 AUSTIN, Texas, June 9, 2021 (SEND2PRESS NEWSWIRE) -- HIT Athletic is celebrating a successful one year in business this month. As one could imagine, launching any business amid the global pandemic proved difficult-especially for those that depend on face-to-face interaction. Such was the case for HIT Athletic which provides families with a unique experience where they can train, strengthen, and sweat together.
CHEYENNE, Wyo., June 9, 2021 (SEND2PRESS NEWSWIRE) -- Encore Green Environmental Technologies & Licensing (EGETL) announces the purchase of water treatment technology equipment formerly known as NOMAD from XRI/Fountain Quail.