BETHESDA, Md., Nov. 19, 2020 (SEND2PRESS NEWSWIRE) -- OutcomeRx (ORx), a division of CareMetx, LLC, announced today a new reinsurance product to provide coverage access to high-cost specialty drugs including therapies in the emerging cell and gene therapy market.
RICHMOND, Va., Nov. 19, 2020 (SEND2PRESS NEWSWIRE) -- Commissioner C. Ray Davenport announced today that Johns Manville in Richmond, Virginia has been approved as a STAR Worksite under Virginia's Occupational Safety and Health (VOSH) Voluntary Protection Program (VPP), the program's highest level of recognition. The facility was honored with their first Certificate of Recognition issued on January 21, 2015.
RIVERSIDE, Ill., Nov. 19, 2020 (SEND2PRESS NEWSWIRE) -- What if every member of Congress read the same book? And what if that book was about libraries? That's the question that EveryLibrary posed as the basis for their recently launched One Book, One Congress campaign. Every $20 raised by the One Book, One Congress campaign will be used to send a copy of the book "Inspiring Library Stories" to a member of Congress.
PITTSBURGH, Pa., Nov. 19, 2020 (SEND2PRESS NEWSWIRE) -- High school water polo athletes looking to continue their playing careers in college have a new resource available to showcase their accomplishments and connect with college coaches. Polovolo is a digital platform designed for the unique needs of high school water polo athletes, their parents and the collegiate water polo coaching community.
ATLANTA, Ga., Nov. 19, 2020 (SEND2PRESS NEWSWIRE) -- November, recognized as Pancreatic Cancer Awareness Month, is an important time of year for Atlanta nonprofit Purple Pansies to raise awareness for pancreatic cancer, celebrate survivors and honor loved ones.
SEEKONK, Mass., Nov. 19, 2020 (SEND2PRESS NEWSWIRE) -- The Team Shawnie Advocacy Group, an over-watch children's advocate agency based in Seekonk, MA, has been working vigorously alongside State Representative, Steven Howitt (R), Bristol County to implement Bill H. 132 (Shawnie Bill) that would close loopholes in our Mental Health Care system in Massachusetts. Because of these loopholes, abuse of incapacitated children and adolescents occur daily.
MEDFORD, N.Y., Nov. 19, 2020 (SEND2PRESS NEWSWIRE) -- Professional Retail Services (PRS), Retail Security Services (RSS), and Retail Mechanical Services (RMS) are affiliated national facility service companies based in Long Island. The three entities have teamed up for the fourth year in a row to honor their tradition of giving back to the community.
DETROIT, Mich., Nov. 19, 2020 (SEND2PRESS NEWSWIRE) -- The entrepreneurs behind a new clothing company wanted to go big at the end of a landmark year by launching their new streetwear brand on one of the world's biggest shopping days. Finesse Gods Clothing Company will introduce their new line of Finesse Empowerment Collection edgy and bundled winter gear designs on Black Friday, which falls on Friday, November 27 this year.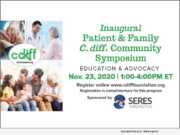 TAMPA, Fla., Nov. 19, 2020 (SEND2PRESS NEWSWIRE) -- C Diff Foundation announced today that the Inaugural Patient, Family, and Caregiver C. diff. Live Virtual Symposium will be hosted on November 23, 2020 at 1 p.m.-4 p.m. EST with keynote topic-experts dedicated in disciplines of healthcare, pharma, biotech, and academia. The event is complimentary with online registration.