SAN LEANDRO, Calif. /California Newswire/ -- Matrix Systems developed the Matrix SP7C detergent to meet the specific cleaning requirements of all Parker Hannifin SmogHog electrostatic precipitators. Its unique formulation was specifically designed to penetrate and eliminate fatty and carbonized deposits that accumulate on ESP collector plates.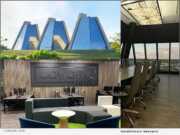 INDIANAPOLIS, Ind., Nov. 13, 2020 (SEND2PRESS NEWSWIRE) -- COWORK 1010 announced new ownership under Cultivate Cowork Solutions, LLC. bringing high quality office amenities to the top floor of Pyramid One just north of Indianapolis.
YAP, Micronesia, Nov. 13, 2020 (SEND2PRESS NEWSWIRE) -- How can oil and gas companies lead in the fight against climate change? A new research project hosted by the Center for Open Science's online collaboration platform explores one option: pay them generously to drill for geothermal energy, and let their profits transform the entire global economy. That is the focus of Dr. Daniel Helman.
BOWLING GREEN, Ky., Nov. 13, 2020 (SEND2PRESS NEWSWIRE) -- BG Locksmith LLC today announced 24-hour Bowling Green KY automotive, residential and commercial emergency Locksmith services. BG locksmith is a highly experienced and trained professional team dedicated to providing locksmith services throughout the Bowling Green, Kentucky area.
HERSHEY, Pa., Nov. 13, 2020 (SEND2PRESS NEWSWIRE) -- Derry Township School District (DTSD) has selected the industry-leading Synergy® Education Platform by Edupoint® Educational Systems for its K-12 student information and learning management needs. The district's cloud-hosted Synergy solution will include Synergy Student Information System (SIS), Synergy MTSS, Synergy Assessment, and Synergy Special Education.