PLEASANT HILL, Calif. /California Newswire/ -- Ombudsman Services of Contra Costa, Solano and Alameda is pleased to announce that Executive Director Nicole Howell has been selected as a 2020 Woman of the Year by Congressman John Garamendi.
LOS ANGELES, Calif. /California Newswire/ -- Damon Tindall, an Australian CEO and founder of Black My Business, just announced a major Crowdfunding initiative to help fund 1,000 full tuition African-American scholarships by December 25, 2020. In the wake of the Democrats' victory, Tindall has seized the opportunity to initiate meaningful action in support.
SAN DIEGO, Calif. /California Newswire/ -- Wes Nichols, president of Paramount Property Tax Appeal Service, is reminding California property owners that property tax relief will be severely limited by changes to the Proposition 58 Parent-to-Child Exemption, as Prop 19 will soon become law.
MCLEAN, Va., Nov. 12, 2020 (SEND2PRESS NEWSWIRE) -- Phacil, LLC, a wholly-owned subsidiary of By Light Professional IT Services, has been awarded a bridge contract for a one-year base period with one, six-month option period with a total lifecycle value of $83.7M by the Defense Information Systems Agency (DISA) for the Defense Information System Network (DISN) Technical Refresh Turnkey Support project via the ENCORE III Full and Open (F&O) suite contract.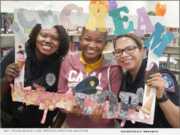 LAUDERHILL, Fla., Nov. 12, 2020 (SEND2PRESS NEWSWIRE) -- The City of Lauderhill, in collaboration with the consulting firm RMA, has launched a new video campaign featuring local police officers sharing fun facts about themselves. The "I am Lauderhill-We are Lauderhill" segments are emailed to residents and other subscribers in the City's official newsletter, Lauderhill Living and posted on social media.
NASHVILLE, Tenn. and MCLEAN, Va., Nov. 12, 2020 (SEND2PRESS NEWSWIRE) -- GoodSeeker today announced its inaugural Top 20 Story-Rich Employers of Nashville list. After reviewing over 300+ companies headquartered in Music City, the start-up conducted extensive research to find companies that put employees at the forefront - honoring their talents, uplifting their voices, and showing thanks to their contribution.
NEW YORK and HONG KONG, Nov. 12, 2020 (SEND2PRESS NEWSWIRE) -- DataNumen company, the manufacturer of professional data recovery software, has announced the release of a new version of DataNumen ZIP Repair 3.0. It is a recovery tool that quickly repairs all types of corrupt ZIP archives and self-extracting files (SFX). The new version 3.0 offers an improved recovery rate, handles archives larger than 4GB, and supports batch repair.
MIAMI, Fla., Nov. 12, 2020 (SEND2PRESS NEWSWIRE) -- Papa Inc, the leading technology-enabled platform for companionship & assistance for older adults & families, today announced it has been selected by Reliance Medicare Advantage to provide services beginning January 1, 2021 to their Michigan HMO population in order to enhance their quality of life through the eradication of social isolation and loneliness.
LEHI, Utah, Nov. 12, 2020 (SEND2PRESS NEWSWIRE) -- SimpleNexus, developer of the leading digital mortgage platform for loan officers, borrowers, real estate agents and settlement agents, today announced the availability of home insurance quotes from Progressive® (NYSE: PGR) within the SimpleNexus digital mortgage app.
NEWPORT, Ore., Nov. 12, 2020 (SEND2PRESS NEWSWIRE) -- Lincoln County School District (LCSD) has selected the industry-leading Synergy Education Platform by Edupoint Educational Systems for its K-12 student information and learning management needs. The district's cloud-hosted Synergy solution will include Synergy Student Information System (SIS), Synergy Online Registration, and Synergy Special Education.