NEWPORT BEACH, Calif. /California Newswire/ -- NotaryCam, the pioneering leader in online notarization and original provider of mortgage eClosing solutions, today announced that in honor of Veterans Day, it would once again offer free remote online notarization (RON) sessions to United States veterans and current service members as part of its semi-annual "Help a Hero" initiative.
DUXBURY, Mass., Nov. 9, 2020 (SEND2PRESS NEWSWIRE) -- The Mom's Choice Awards has named Bounce Box as among the best in family-friendly products and services based on a number of elements including production quality, design, educational value, entertainment value, originality, appeal, and cost.
BOISE, Idaho, Nov. 9, 2020 (SEND2PRESS NEWSWIRE) -- Idaho Rural Water Association (IRWA) earns the 2020 State Association of the Year Award in the Awards of Excellence competition awarded by National Rural Water Association (NRWA). This is the second time IRWA has earned this award since its incorporation in Idaho in 1987.
CARROLLTON, Texas, Nov. 9, 2020 (SEND2PRESS NEWSWIRE) -- EGW Utilities, Inc. has acquired Buy Wholesale Company, LLC (BWC) of Montgomery, Texas. BWC was founded by Karl Knapp in 1985. He and his wife, Tracy, operated it until its acquisition on October 30, 2020. The procurement of BWC greatly increases EGW's waterworks and plumbing product offerings.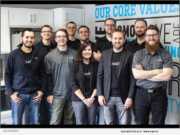 CHICAGO, Ill., Nov. 9, 2020 (SEND2PRESS NEWSWIRE) -- LeadingIT, a Chicagoland technology and cybersecurity support company, has teamed up with Extra Life to raise money for hospitals that treat sick or injured children.