ATHENS, Ga., Sept. 3, 2020 (SEND2PRESS NEWSWIRE) -- FormFree has promoted Cindy Snow to the position of Chief Operating Officer (COO). In her role as COO, Snow will craft efficient systems that elevate FormFree's performance while directly overseeing business operations, product management, business intelligence, integrations and customer support.
DENVER, Colo., Sept 3, 2020 (SEND2PRESS NEWSWIRE) -- We are proud to announce that Bryan Traeger, Head of Customer Success at digital mortgage provider Maxwell, has been announced as a winner of the 2020 HousingWire Insider Award.
LOS ANGELES, Calif. /California Newswire/ -- AAA Flag & Banner, the company that made headlines with its quick and innovative solution for filling empty Major League Baseball stadiums with cardboard cutout fans, has elevated its service to the next level with the rollout of custom online ordering portals for teams across the country.
NEWPORT BEACH, Calif. /California Newswire/ -- NotaryCam, the pioneering leader in online notarization and original provider of mortgage eClosing solutions, today announced that Katie Maxson, the firm's technology/product quality assurance and compliance Lead, has been named to HousingWire's 2020 Insiders Award list.
RALEIGH, N.C., Sept. 3, 2020 (SEND2PRESS NEWSWIRE) -- Sokal, a leader in the advertising world, will sponsor the long-awaited return of Greg Biffle to NASCAR. Sokal, a long-time supporter and avid fan of NASCAR, will be the proud sponsor of this event.
RED BANK, N.J., Sept. 3, 2020 (SEND2PRESS NEWSWIRE) -- Move For Hunger announced today that it has received a $50,000 donation from the Assurant Foundation to support its COVID-19 relief efforts. The donation will help Move For Hunger provide 120,000 meals to children, families, senior citizens and vulnerable communities that are facing hunger during the pandemic.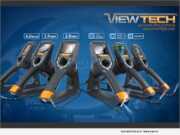 TRAVERSE CITY, Mich., Sept. 3, 2020 (SEND2PRESS NEWSWIRE) -- As video borescopes are increasingly used as a visual inspection tool, ViewTech Borescopes VJ-3 video borescope is reputably one of the most desired tools to own. From family-owned businesses to Fortune 500 corporations, each day thousands of users rely on their VJ-3 to improve maintenance, inspection and repair processes.