SANTA FE SPRINGS, Calif. /California Newswire/ -- IMPRES Technology Solutions, Inc., a leading IT solutions provider for the US Federal Government, today announced an estimated $67 million award to provide standardized, pre-configured rugged laptop devices to federal customers via the General Services Administration AdvantageSelect program.
MEDFIELD, Mass., May 14, 2020 (SEND2PRESS NEWSWIRE) -- Sturbridge Growth Partners, a boutique management consulting firm dedicated to driving profitable growth for clients through innovative approaches to pricing and value management, announced today that Tom Nagle has joined the company as an Advisory Partner.
MADISON, Wis., May 14, 2020 (SEND2PRESS NEWSWIRE) -- The International Forgiveness Institute (IFI) announced today that University of Wisconsin-Madison psychologist Robert Enright, Ph.D., has teamed up with acclaimed songwriter-performer Sam Ness to produce a "therapeutic music-discussion video" for adults who are struggling with the anguish created by the coronavirus lockdown.
GREENSBORO, N.C., May 14, 2020 (SEND2PRESS NEWSWIRE) -- Black-owned North Carolina-based investment firm, BWC Capital secured a Payroll Protection Program (PPP) forgivable small business loan during the first round of available funds several weeks ago.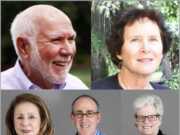 NEW YORK, N.Y., May 14, 2020 (SEND2PRESS NEWSWIRE) -- The Santa Fe Group (SFG), a not-for-profit, action-oriented think tank with a passion for improving lives through oral health, announced today the new emeritus status of one of its founding members, the election of three new board members, and the appointment of a new Senior Scholar, all esteemed healthcare leaders in their fields.
DELRAY BEACH, Fla., May 14, 2020 (SEND2PRESS NEWSWIRE) -- It's been a trying time for everyone during the Coronavirus pandemic, but the Spodak Dental Group (SDG) team is reopening their doors to provide needed dental care to their community members. The SDG team will begin seeing all current and future patients for emergency and routine dental procedures starting Monday, May 11.