ORLANDO, Fla., March 24, 2020 (SEND2PRESS NEWSWIRE) -- Executive Commercial Cleaning has again reiterated their goal of keeping the people and businesses in and around Orlando, Florida safe with the use of the latest cleaning techniques and disinfecting process, particularly with the emergence of the coronavirus. Over the years, Executive Commercial Cleaning has constantly demonstrated their dedication to ensuring the safety and hygiene of clients across Orlando and surrounding areas.
LANSDALE, Pa., March 24, 2020 (SEND2PRESS NEWSWIRE) -- Global DMS, a leading provider of cloud-based appraisal management software, announced that it has been selected by MReport for its inaugural "Top 25 Fintech Innovators" award, which recognizes fintech companies within the mortgage industry that are poised to shape the future of the industry in 2020 and beyond.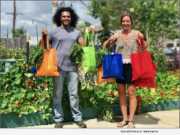 NEW ORLEANS, La., March 24, 2020 (SEND2PRESS NEWSWIRE) -- Today, the various organizations that make up the Growing Local Collaborative - Recirculating Farms Coalition, Top Box Foods Louisiana, SPROUT NOLA, New Orleans Food Policy Advisory Committee, and Liberty's Kitchen - in partnership with Market Umbrella and the Crescent City Farmers Market, are ramping up efforts to keep New Orleans residents fed and healthy by organizing food distribution from farms to families and mapping important resources.
ATLANTA, Ga., March 24, 2020 (SEND2PRESS NEWSWIRE) -- Top of Mind Networks (Top of Mind), a leader in customer relationship management (CRM) and marketing automation software for the mortgage lending industry, took home four platinum and four gold awards in the 2020 AVA Digital Awards competition.
BOSTON, Mass., March 24, 2020 (SEND2PRESS NEWSWIRE) -- Garage Doors Boston, a chief provider of garage door repair services, has launched garage door repair New Boston MI services. The garage door repair Boston has emerged as one of the key contenders for the top five positions in the list of the key players in this industry.