OAKLAND, Calif. /California Newswire/ -- Today, surrounded by dozens of legislative leaders, working families and rent advocates in the East Bay, Governor Gavin Newsom signed into law today a series of bills to fight a key cause of our state's housing crisis – rent gouging and evictions.
SACRAMENTO, Calif. /California Newswire/ -- Today, Calif. Governor Gavin Newsom announced the following appointments: First, Kimberly Kirchmeyer, 50, of Sacramento, has been appointed director of the California Department of Consumer Affairs. Kirchmeyer has been executive director of the Medical Board of California since 2013, where she was deputy director from 2011 to 2013.
LOS ANGELES, Calif. /California Newswire/ -- Mortgage Quality Management and Research, LLC (MQMR) President Michael Steer reminded lenders to conduct an independent audit review of their quality control (QC) process immediately in deference to updates to "Subpart D1, Lender QC Process" of the Fannie Mae Selling Guide.
NEWPORT BEACH, Calif. /California Newswire/ -- NotaryCam(R), the leader in online notarization and original provider of mortgage eClosing solutions, today announced that its Founder and CEO Rick Triola has been named a 2019 Tech Trendsetter by HousingWire magazine as part of its inaugural HW Tech Trendsetter Awards(TM) program.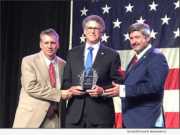 CITY OF INDUSTRY, Calif. /California Newswire/ -- Ken Rakusin, President & CEO of Gordon Brush Mfg. Co., Inc., was the recipient of the PATRIOT AWARD at the 2019 MADE IN AMERICA CONVENTION, that was held at the Indianapolis, Indiana convention center on October 3-6. "This award was presented to Ken for his Proud To Be An American attitude and his unwavering commitment to manufacturing in the United States, in-spite of the infiltration of low cost, inferior Chinese goods," said Don Buckner, founder, MadeInAmerica.com.
SAN FRANCISCO, Calif. /California Newswire/ -- Neurotech Reports, the publisher of the Neurotech Business Report newsletter, announced that 15 promising neurotechnology startups and early-stage firms will present at the 2019 Neurotech Leaders Forum in San Francisco, November 4-5. The 19th annual event-the most established in the industry-will also feature presentations and panel discussions on important issues confronting the neurotechnology industry.
LOS ANGELES, Calif. /California Newswire/ -- BargainsLA.com, is Southern California's premier bargain shopping guide to discount outlets, sample sales, warehouse sales and liquidation outlets. Since October 1999, BargainsLA's founder, Suzanne O'Connor, has reviewed over 1,000 "Off Price" discount outlets and posted over 15,000 sample sales and warehouse sales.
BOCA RATON, Fla., Oct. 8, 2019 (SEND2PRESS NEWSWIRE) -- Dr. Kerri White of White Smiles of Boca is dedicated to saving our ocean and future. Now through January 1, Dr. White will donate 5% of the proceeds from every new comprehensive Invisalign(R) treatment start to the FAU Foundation's "Nelligan Sea Turtle Research Support Fund."
DALLAS, Texas, Oct. 8, 2019 (SEND2PRESS NEWSWIRE) -- EPIC Insurance Brokers and Consultants announced today that Dave Tate has joined the firm's Property and Casualty operations, as a Principal, reporting to EPIC Managing Principal and Director of the Southwest Region, KJ Wagner.
NORWALK, Conn., Oct. 8, 2019 (SEND2PRESS NEWSWIRE) -- After, Inc., a pioneer in the Warranty Services industry, has delivered innovative warranty marketing, analytics and program management services to top-tier manufacturers since 2005. As an industry leader, After, Inc. stays on top of regulations that may affect its manufacturing clients. The California Consumer Protection Act (CCPA) is one of these.