FRIENDSWOOD, Texas, Oct. 2, 2019 (SEND2PRESS NEWSWIRE) -- Behavioral Innovations, a leading provider of center-based ABA therapy, today announced their newest center opening that will be located in Friendswood, Texas, a suburb of the Houston metro area. The growing need to provide access to early autism services is increasing as more children are being diagnosed with autism than ever before.
ELK GROVE, Calif. /California Newswire/ -- One thing that unites us as a nation is land: Americans strongly support saving the open spaces they love and that feed them. Since 2004, California Farmland Trust (CFT) has been doing just that for the people of California.
OAKLAND, Calif. /California Newswire/ -- Galileo Learning, one of America's largest and fastest-growing summer day camp providers, has named Nerissa Sardi its new Vice President of Marketing. Galileo operates 100+ summer camp programs throughout California and Illinois.
LOS ANGELES, Calif. /California Newswire/ -- Melina fled her home to escape domestic violence to protect herself and her children. They had nowhere to go so they turned to The Whole Child. The non-profit welcomed their first families into residence at the Safe Families Interim Housing Program the first week in September.
POMPANO BEACH, Fla., Oct. 2, 2019 (SEND2PRESS NEWSWIRE) -- ACES Risk Management (ARMCO), the leading provider of enterprise financial risk management solutions, today announced that Sharon Reichhardt, the company's vice president of client success, has been named a winner of HousingWire's inaugural Tech Trendsetters award.
EDMOND, Okla., Oct. 2, 2019 (SEND2PRESS NEWSWIRE) -- NEXT Mortgage Events LLC, creator of events for women mortgage executives, has announced that Capsilon, a provider of mortgage automation software, has been voted Best in Show for its presentation of Capsilon Digital Underwriter at the technology showcase at #NEXTSUMMER19, the women's executive mortgage summit that took place on Aug. 18-19, 2019.
ST. LOUIS, Mo., Oct. 2, 2019 (SEND2PRESS NEWSWIRE) -- All Pro Technical Service announces the launch of its marking and coding equipment blog. This blog will be covering topics of interest to anyone who uses industrial marking and coding equipment to print critical information, on a variety of surfaces, in a fast-moving production line environment.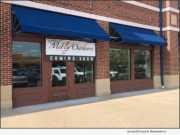 MORGANTOWN, W.Va., Oct. 2, 2019 (SEND2PRESS NEWSWIRE) -- McFly Outdoors, West Virginia's premier outdoor outfitter, recently relocated Morgantown operations to 1066 Suncrest Towne Center and will officially open to the public with a Grand Re-opening event on Friday, October 4 through Saturday, October 5, 2019.