SAN DIEGO, Calif. — Athletic-Minded Traveler LLC, a Southern California-based active lifestyle media company that operates the largest healthy travel site on the web, www.athleticmindedtraveler.com, released today its 2006 ranking of "The Best Hotel Gyms in the U.S." The Top 11 hotel gyms received the company's recommendation after in-depth research on over 3,000 hotels and anonymous personal tours by the editorial staff. Selection criteria included facility size, equipment quantities, multi-sport options (e.g., lap pool, sport court, etc.), and overall ambiance/atmosphere.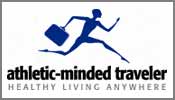 To be considered as a "hotel gym," the facility must be located on hotel property or within an adjacent building.
"These U.S. hotels deserve special recognition for supporting and encouraging travelers' healthy and athletic-minded lifestyles," said Jim Kaese, Co-founder and Managing Member of Athletic-Minded Traveler LLC. "Our online resource has experienced tremendous growth and success because millions of travelers now care about exercise options while away from home (up to 50% in one study) and want to learn about fantastic facilities like these."
A detailed listing with discussion of each property can be found on the company's home page at www.athleticmindedtraveler.com.
The Best Hotel Gyms in the U.S. for 2006 are:
1. Houstonian (Houston)
2. Park Hyatt at Bellevue (Philadelphia)
3. Four Seasons (San Francisco)
4. Embassy Suites Lakefront (Chicago)
5. Venetian (Las Vegas)
6. Bellevue Club (Bellevue, WA)
7. Inn at Ponte Vedra (Florida)
8. Grand Hotel (Minneapolis)
9. JW Marriott (Orlando)
10. Ritz Carlton Boston Common
11. Le Parker Meridien (New York)
About Athletic Minded Traveler LLC
Athletic-Minded Traveler LLC is an active lifestyle media company offering print and online business solutions to thousands of individuals and Fortune 500 companies such as KPMG. The San Diego based company services its clients through an expert staff of athletic-minded consultants at 1-877-272-6657 and on the website.
Athletic-Minded Traveler products and services have been recommended by Newsweek Magazine, Christian Science Monitor, Men's Health, Outside Magazine, Fitness Magazine, Health, Shape, Runner's World, and others.
[tags]Athletic Minded Traveler, best hotel gyms in California[/tags]