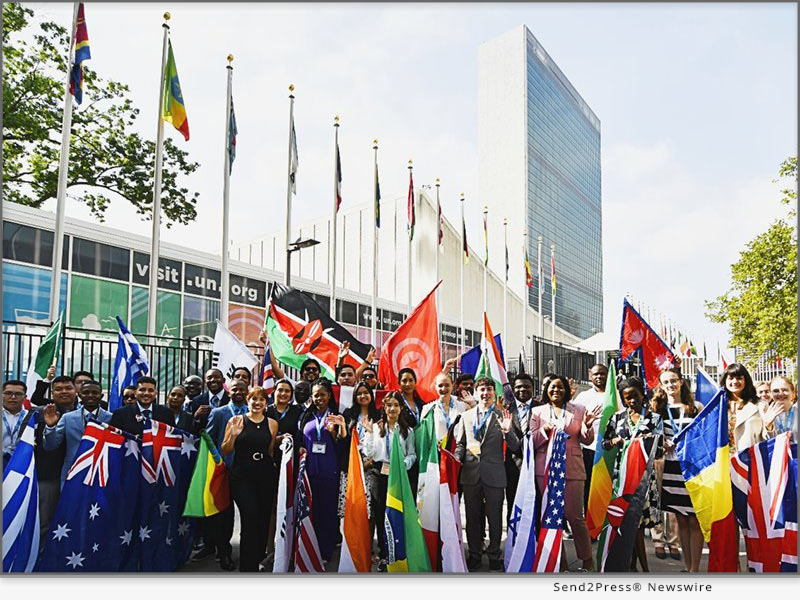 NEW YORK, N.Y., Jul 11, 2023 (SEND2PRESS NEWSWIRE) — Human Rights Office of the Church of Scientology International congratulates Youth for Human Rights International for its Summit at the UN, which provided youth activists from around the world with tools to achieve their humanitarian goals.
Nobel Peace Laureates and human rights luminaries shared their wisdom and skill with young delegates from across the globe at the 17th Youth Summit, July 7-9. Organized by Youth for Human Rights International, the Summit was hosted by the Permanent Mission of Timor-Leste to the United Nations and cosponsored by the Permanent Missions of Ireland, Albania, and the Democratic Republic of the Congo.
The theme of this year's Summit was "IMAGINE: EQUALITY. DIGNITY. UNITY – Youth Making it a Reality."
Delegates gathered in the UN's Economic and Social Council Chamber, where international human rights icons mentored and encouraged them to persist in achieving their goal – to make human rights a reality by raising awareness of the Universal Declaration of Human Rights (UDHR) through education.
Timor-Leste President José Ramos-Horta, Nobel Peace Laureate for 1996, welcomed the delegates in a recorded presentation. "The hope that is represented by UDHR never dies," he said. "It is always carried forward by the young … With your actions today you are making the world you will live in a better place. The UDHR maps the road to a better world. Thank you for continuing to carry that torch and build a road to the ideals we share."
This year, the world celebrates the 75th anniversary of the Universal Declaration of Human Rights, the document that, for the first time, laid out the 30 fundamental rights of each member of the human family. Yet all these years later, the world faces humanitarian crises including famine, human trafficking, and environmental degradation, and more than 30 countries are embroiled in conflict from full-scale wars to terrorist insurgency. It is clear that these rights have not yet become a reality for billions on the planet.
In the preamble to the UDHR, those who crafted the document urged governments and civil society to "strive by teaching and education to promote respect for these rights and freedoms and by progressive measures, national and international, to secure their universal and effective recognition and observance."
In December 2011, the UN General Assembly adopted the United Nations Declaration on Human Rights Education and Training. It calls on member states to "implement human rights education and training." Yet 12 years later, little has changed.
Youth delegates from around the world collaborated in creating a declaration which they read to the Summit. They demand that all UN member states make human rights education mandatory in their nation's schools.
In evidence that this can be done, those attending the Summit were briefed by Mr. Jorge Luis Fonseca Fonseca, Deputy of the Legislative Assembly of Costa Rica (ret.) and Youth for Human Rights Costa Rica Executive Director Braulio Vargas, on how they helped push through legislation mandating human rights education in all Costa Rica schools, thus instilling human rights into the nation's fabric.
Other prominent presenters at the Summit included the Permanent Representative of Timor-Leste to the UN, Ambassador Karlito Nunes; Permanent Representative of Albania to the UN, Ambassador Ferit Hoxha; Immediate Past President of International Physicians for the Prevention of Nuclear War, Dr. Ira Helfand, Nobel Peace Prize Laureate for 1985 and 2017; Co-Founder and President of Eyes Open International, Harold D'Souza; Chief Operating Officer of Movement Forward, Inc. Jared Feuer; retired Associate Justice of the Philippine Court of Appeals and Chairperson of the Independent Commission Against Private Armies, Monina Arevalo Zenarosa; and Assistant Professor, Northwest Vista College, Haetham Abdul-Razaq, Ph.D.
More than 400 officials, ambassadors and representatives of UN permanent missions, representatives of NGOs, academics, and members of civil society attended the two-day conference, at the end of which, dignitaries signed a proclamation mandating human rights education.
The event was broadcast on the UN website and viewed by human rights activists, educators and members of Youth for Human Rights chapters in countries across the globe.
The final day of the Summit was hosted by the Church of Scientology Harlem Community Center. Delegates attended a seminar in which they gained skill in planning and executing their human rights education initiatives. Each crafted a human rights action plan to help them reach their goals for the coming year.
The Human Rights Office of the Church of Scientology International congratulates Youth for Human Rights International for the scope and impact of this summit. The Church has sponsored and helped organize each of the previous 16 Youth Summits. Human rights advocacy is an integral part of the Scientology religion. The Creed of the Church of Scientology, written in 1954 by Scientology Founder L. Ron Hubbard, begins: "We of the Church believe: That all men of whatever race, color or creed were created with equal rights." The Church of Scientology and its parishioners support Youth for Human Rights International, making it possible to provide its materials free of charge to educators, human rights organizations, and community and civic leaders wishing to educate others on the Universal Declaration of Human Rights.
For more information on Youth for Human Rights International and its work to ensure full implementation of the UDHR, watch "Shining a Light on Human Rights," an episode of Voices for Humanity, an original series on the Scientology Network, available on DIRECTV Channel 320, DIRECTV STREAM, AT&T U-verse and streaming at Scientology.tv, on mobile apps and via the Roku, Amazon Fire and Apple TV platforms.
LEARN MORE:
https://youthforhumanrights.org
https://www.scientology.tv/series/voices-for-humanity/mary-shuttleworth.html
MULTIMEDIA:
VIDEO https://www.scientology.tv/series/voices-for-humanity/mary-shuttleworth.html
News Source: Church of Scientology International
Related link: https://www.scientology.org/
This press release was issued on behalf of the news source, who is solely responsible for its accuracy, by Send2Press Newswire. To view the original story, visit: https://www.send2press.com/wire/mentoring-youth-leaders-in-the-name-of-peace-and-a-better-world/