LOS ANGELES, Calif. — In Los Angeles Superior Court today Judge Mary H. Strobel ruled from the bench that Minister Rubin of Temple 420 had to expose himself twice a month as part of his probation requirements. The minister of the Hollywood cannabis church offered to submit to a hair test stating, "I am not trying to avoid the responsibility of drug testing, I only want to have some human dignity by not having to expose myself to this gentlemen that is my probation officer."
Forcing people to expose themselves is patently unnecessary when the National Institute of Drug Addiction ("The NIDA") has determined that the most efficient way to test for all drug traces in a person's system is by testing their hair. Specifically for cannabis, since eight-five percent of all drug arrests in America are for marijuana, one would assume that marijuana is being drug tested in the majority of cases. To make non-violent marijuana offenders get used to showing their private parts to strangers is wrong and inhumane. America sent brave soldiers to prison for doing that to Iraqis and yet our nation will allow that to be done to a Christian Minister.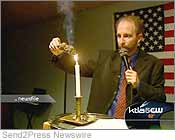 In a Supreme Court case, Furman v. Georgia (408 U.S. 238), from 1972 the justices ruled that for a punishment to be cruel and unusual it needed to degrade human dignity. It is difficult to think of something that is more degrading to human dignity than having to expose yourself to complete strangers that are not friendly.
In the case of Minister Rubin he said, "My probation officer threatened me on Friday and then lied about it in a report to the judge on Monday when I went to ask for my request not to be stripped by the guy, which is what he told me he'd do if I refused to pee with my pants down in front of him. I had to just thank the judge and not to upset her. She was very generous by allowing me out on appeal without bail. The fact is I was sentenced to jail time and I am free for, which I thank God and the Judge."
Then the Minister, who is also known for his comedic role on the Showtime hit Weeds where he plays the owner of the medical marijuana club breaks into character, "I could have opened a medical pot club. Come on, there are more pot clubs in Los Angeles than there are Starbucks. I have been promoting pot for years. When I found out the Bible was True and that God was real and that Jesus wasn't just a historical figure … I was never going to spread the Word." The Minister gives his testimony on his web site http://www.temple420.org/forum/index.php?showtopic=3519.
Switching back to the legal vein our pro-pot preacher goes on, "Normally it would be illegal to expose yourself to another. It is California Penal Code 311, unless it is your wife of course, but at times," the Reverend jokes, "even that can be humiliating."
Minister Rubin is a Messianic Jew, meaning that he is still Jewish, but takes the whole Bible seriously and follows the example of the Jewish Jesus. "I spent two days fasting and praying and I was upset that things didn't go my way today in court," said Rubin, "but when I came home I thought of Dr. King and Gandhi because one always has the right to peacefully protest. I have the God give power simply not to submit to exposing myself in that way. I realize that they can come and arrest me and I am okay with that more than I am okay with exposing myself." Then he quipped, "No wonder our country is so gay."
Reverend Rubin now has a theory as to why God didn't answer his prayers, "I was only thinking of myself. I had been molested as a child by my babysitters and the experience of having to expose myself to the probation officer and his threats brought back some unpleasant memories. The fact that I was first threatened by him and then forced to expose myself was shocking and reminded me of the molestation. This must be happening to millions of Americans. At first I was so angry then God showed me a way."
The Minister lays out his plan for civil disobedience, "I am going to continue to fast. Drinking only water until this makes national news and people start standing up across the country and ending this inhumane practice of forcing non-violent drug offenders, most of whom are pot smokers, to expose themselves to potential perverts."
One has to acknowledge that if pedophiles could use the priesthood to hide their illicit activities a probation officer is certainly in a position to take advantage of someone in that way. Doing drug test with one's hair is more accurate, less invasive of someone's privacy, (privacy is not a big concern to the Bush administration obviously), and the hair test is accurate for a longer period of time.
Rubin closes out the interview with a conspiracy rant, "I spoke to a pot smoker the other day who was tortured in this way and he says that it now takes him five minutes of standing there just to go the bathroom. The fact is I wanted to run for President in '08 and was collecting applications from various states to enter the primary when doors of my church were kicked down and the LAPD pointed a loaded shotgun at my head and told me that the Judeo-Christian faith wasn't 'real' and therefore, we didn't deserve the same protection as let's say the Catholic Church. Not one of these candidates running for President has a solution for the oil crisis other than war. Cannabis is the Tree of Life mentioned in the Bible surely as Jesus the Jew is a spiritual tree of life."
[tags]Craig X Rubin, Temple 420, Pope of Pot, Weeds Actor, 9021GROW, Reverend Rubin, Cannabais church[/tags]