HOLLYWOOD, Calif. /California Newswire/ — Craig Rubin has been receiving more national coverage than other challengers to Villaraigosa in this year's election. This week appearing in Globe Magazine, in an article with Brad Pitt. Rubin promotes more water for Los Angeles' growth, getting the federal government out of local law enforcement and lowering taxes; but he is making a name for himself as a national politician with a pro-marijuana background. The majority of his contributions coming from out-of-state via the website www.CraigX4mayor.org with the average donations being $3-5, but he claims to have a $1,000 donation coming in soon. People are willing to support the "pro-hemp" candidate and like his message.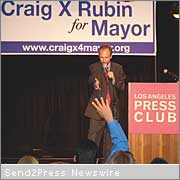 Rubin has been doing it for years, throwing rallies at the Federal Building, acting in hit television shows like "Weeds," or preaching the Word of God at Temple 420 in Hollywood; Rubin has done one thing his entire life, promote cannabis. Currently, he works teaching at The Union Bible College in Pasadena and being a pastor at The Family Church International in the same city. He is just as passionate about the Word of God as he is about cannabis. In fact, he claims in his book, "9021GROW" (ISBN-0-9747110-0-4) that his personal quest to end cannabis is a mission that he is on from the Lord.
He has a good sense of humor about the idea and realizes that most people think he is slightly crazy. Common wisdom is that marijuana is harmful — however in all of recorded history there is not one recorded death from the substance. Rubin is quick to point out all of the benefits of industrial hemp, the most important being that ending the prohibition of cannabis would immediately create millions of jobs. FDR ended the prohibition of alcohol only six days after taking office and Rubin is praying Obama does the same thing with hemp.
Rubin is facing a "David v. Goliath" battle as he goes up against the current mayor, who is often on television and has millions of dollars to battle whoever wins the primary election. Villaraigosa is not even campaigning for the March 3, 2009 primary, presumably figuring he is a lock to come in first or second, which would guarantee him a place in the final ballot on May 31, 2009. Recently, only twenty percent of the population has shown up to vote for mayor, so every vote really counts in this local election. There are eight candidates challenging the current mayor.
Rubin, who has been dubbed the "pro-pot pastor" for his stance on cannabis, seems to be closing in on the mayor's lead. He is also violently opposed to the federal government controlling local law enforcement. He really can speak from experience, having been raided at his house of worship by the LAPD under the auspices of the DEA. During the raid that took place on Rubin's temple, federal officers were not supposed to be participating as it was a religious establishment; they were only to observe — however the video tape of the incident tells a different story.
"The LAPD asked me to open the cash register to our gift shop, the safe in our sanctuary and they counted the money in front of me as they seized it," all reasonable and lawful when law enforcement is conducting a search, said Rubin.
Rubin went on, "Patrick Kelley of the DEA," a federal agency, "however used a hammer to smash open the lock on our church donation box, didn't count the money in front of me (the only money without a receipt book) and I feel not all of it was accounted for; that is why I am so opposed to federal agents running our local police. The other agent identified as DEA by the prosecution stole a $60 bottle of anointing oil thinking no one was watching and I have it all on video tape."
Although convicted, Rubin was never made to serve in jail and he claims that is because of a higher power. He is not talking about marijuana, but about the almighty, "The Lord protected me because my intentions were to honor Him."
More information on Craig X Rubin for Mayor:
http://www.CraigX4mayor.org .
[tags]Craig X Rubin for Mayor, Temple 420 in Hollywood, Los Angeles mayoral race[/tags]