MANHATTAN, N.Y., July 10, 2019 (SEND2PRESS NEWSWIRE) -- Yubo Fernandez was a sponsored child from the Dominican Republic by a U.S. school; now she's an awarded actress, producer, director, activist and entrepreneur, presenting her third play in Off Broadway NYC. "Late for Martinis" is part of the Summer Play Celebration at the Manhattan Repertory Theater this July 18, 20 and 21, 2019 in Manhattan.
SAN DIEGO, Calif. /California Newswire/ -- ReverseVision, the leading provider of technology and training for the reverse mortgage industry, today announced a partnership with Total Expert, creator of the first marketing operation system (MOS) specifically for banks and mortgage lenders. The two companies have deployed an API integration that links the Total Expert MOS with ReverseVision's RV Exchange (RVX).
WHITTIER, Calif. /California Newswire/ -- The Whole Child is thrilled to announce the agency has been awarded the Parents as Teachers Home Visiting Program contract through the Department of Public Health that will triple their existing program. This contract will allow The Whole Child to increase client capacity by 300% as well as expand our geographic reach deeper into Los Angeles County Service Planning Area (SPA) 7 Southeast Los Angeles County and newly enter Service Planning Area (SPA) 3 San Gabriel Valley.
DREXEL HILL, Pa., July 10, 2019 (SEND2PRESS NEWSWIRE) -- Gallospole will release the political allegory, TARAC WIPPP, which stands for The American Right for Adequate Chair Width In Public & Private Places, on July 15, 2019. In a series of videos, animations and soundtracks, TARAC WIPPP, a fictitious lobbying organization led by Gallospole, peddles the conspiracy theory that the weaponization of chairs, perpetrated by known and unknown entities, discriminates against obese Americans.
COXSACKIE, N.Y., July 10, 2019 (SEND2PRESS NEWSWIRE) -- Just in time for the summer season, Hudson Valley Wine Magazine is launching a fully redesigned, mobile-friendly website that is tailor-made not only for consumers and visitors who want the most out of their wine and craft beverage experience in the Hudson Valley, but also researchers, media, and members of the trade who want to learn more about the region's industry from an historical and agricultural perspective.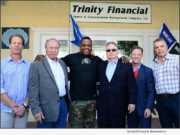 SPRING LAKE, N.J., July 10, 2019 (SEND2PRESS NEWSWIRE) -- Trinity Financial, Sports & Entertainment Management Company, a division of Peter Grandich and Company, announced today that it has teamed with the Sports & Entertainment Division of one of the largest CPA firms in the Tri-State Region, WithumSmith+Brown, PC ("Withum").
LONDON, U.K., July 10, 2019 (SEND2PRESS NEWSWIRE) -- iTrinegy, leading providers of Software Defined Virtual Test Networks, are pleased to announce that Ubisoft Studio - Future Games of London, the developer and publisher of the highly popular Hungry Shark mobile games, has become the latest studio to deploy iTrinegy's NE-ONE Network Emulator to enhance their games performance testing capability.