BOULDER, Colo., and MINNEAPOLIS, Minn., June 12, 2019 (SEND2PRESS NEWSWIRE) -- TeamSnap, the household name in integrated sports management, announced today it has partnered with TeamGenius, one of the leading athlete evaluation apps for tryouts, feedback and player development.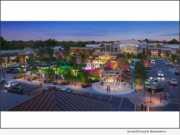 HENDERSONVILLE, Tenn., June 12, 2019 (SEND2PRESS NEWSWIRE) -- U.S. Properties Group announces the Grand Opening celebration of the new Center Stage plaza at The Streets of Indian Lake shopping center in Hendersonville, Tennessee on Thursday, June 13, 2019 from 4-7 p.m.
MESA, Ariz., June 12, 2019 (SEND2PRESS NEWSWIRE) -- Edupoint Educational Systems, an industry leader in K-12 student information and learning management, has once again earned a spot among the 2019 azcentral.com(R) Top Companies to Work for In Arizona. The 2019 list marks the fourth time Edupoint has been recognized.
LOS GATOS, Calif. /California Newswire/ -- Model, actress, and recovery coach Dona Speir announces the publication of her autobiographical memoir, "Naked Truth: The Fall and Rise of Dona Speir" (ISBN: 978-1939282422). Co-written with well-known author/journalist Chris Epting, this memoir reveals the hard truths, personal struggles, and eventual triumph over abuse, sexual exploitation, and addiction that have shaped Speir's life.
ROLLING HILLS ESTATES, Calif. /California Newswire/ -- The Asia America Symphony Association (AASA) and Guild will hold their annual Bravo Awards gala recognizing the Roland Corporation, Helen Ota and Gail Gerding Mellert for their contributions to AASA and the community. Master of Ceremonies is David Ono, KABC 7 News Anchor.
LOS ANGELES, Calif. /California Newswire/ -- Bank of Southern California, N.A. (OTC Pink: BCAL), a community business bank headquartered in San Diego, announced today that it has hired Kamran Khosrovani as Branch Managing Director of Business Banking in Los Angeles. He will focus on client acquisition and retention as Bank of Southern California looks to further expand its presence throughout the greater Los Angeles region.
OVERLAND PARK, Kan., June 12, 2019 (SEND2PRESS NEWSWIRE) -- Synthesus, LLC, a new advisory services company, is launching this month. Synthesus partners with clients to produce solutions to their most painful challenges with an eye on the future and the ever-evolving workplace environment.
BOULDER, Colo., June 12, 2019 (SEND2PRESS NEWSWIRE) -- DiNoci Natural Foods, creator of revolutionary almond milk-based frozen desserts, today announced plans to exhibit at the 2019 Food & Wine Classic in Aspen, Colorado June 14-16, 2019. The company also announced the launch of four flavors - Salty Caramel, Lemon, Chocolate and Mint Ganache - at 15 Colorado Whole Foods Stores.
HONG KONG, June 12, 2019 (SEND2PRESS NEWSWIRE) -- RecoveryRobot, a leading developer of data recovery software programs, today announced the launch of its ultimate photo and video recovery software program - RecoveryRobot Photo Recovery. Unlike general-purpose, full-featured data recovery software programs, this photo recovery software is dedicated to recovering graphic files and multimedia files.
NEW ORLEANS, La., June 12, 2019 (SEND2PRESS NEWSWIRE) -- Spring Creek Labs Inc. announced today that thousands of cannabis industry innovators and 250 exhibitors will meet at MJBizConNEXT. The event will take place on June 12-14, 2019 at the Morial Convention Center in New Orleans, Louisiana.